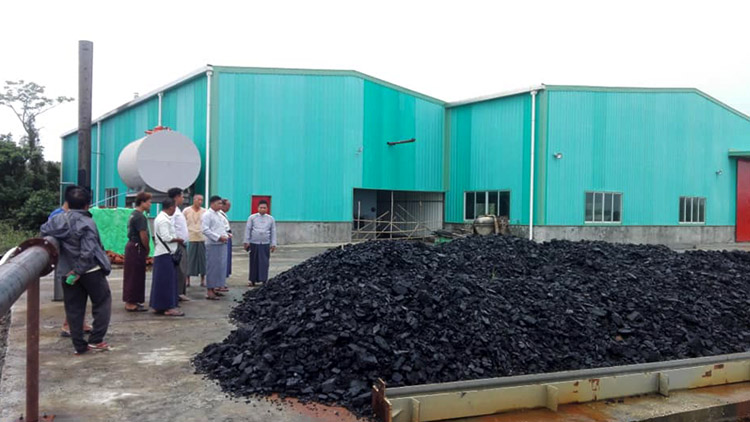 Khaing Roe La | DMG
31 July, Kyauk Phyu

A Chinese-owned fish cracker factory built near Pin Lae Nar village, 35 miles from Kyauk Phyu town, has been discovered to run on coal, U Phoe San, Arakan State MP for Kyauk Phu Township, told the DMG.

According to information from local residents, a lawmaker inspected the factory along with assistant director general of the Environmental Conservation Department. They found that coal would be used to run the factory.

"The factory has not started running. We found a heap of coal near the port. We asked officials from the factory when the factory would be up and running because they already have a power supply. They said that they've planned to use coal to operate the factory" U Phoe San told the DMG.

He added that two factories had been installed to process fish crackers, but he did not know when it will start.

The regional government was not aware of the factory.   

U Win Myint, minister for Municipal Affairs and spokesperson of the Arakan State cabinet, said that any application has not been submitted and the department did not grant the appropriate permits to run the factory.

"As far as I know, the department did not grant permission for the factory to operate. I did not hear about any applications being submitted for the factory's operation in meetings. I can't say if any applications were submitted in other related ministries," he said.   

Similarly, U Kyaw Aye Thein, minister for Planning, Finance, Tax and Economy from Arakan State cabinet, said: "I did not know about the factory. The project was not submitted to our department." 

U Phoe San said that he would object to the factory operating on coal because it could have a negative impact on local residents.

"How many job opportunities would locals get? Where do they discard the waste from the factory? If they discard waste into the sea, fish stock will be impacted. And, nearby villages are likely to be affected. So, we need to make sure things are done systematically in line with the law," he added.