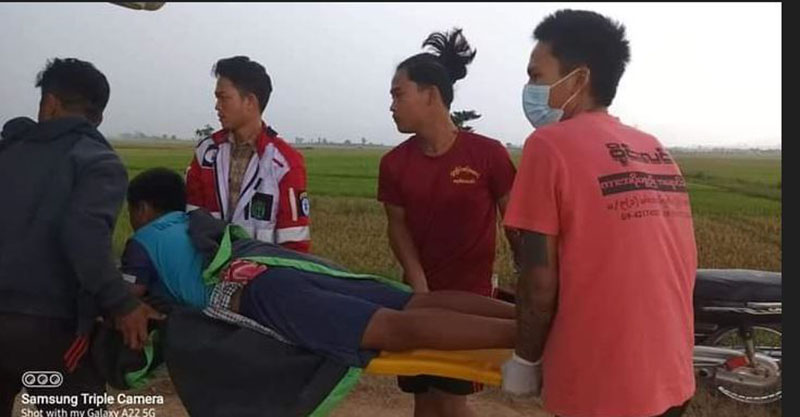 DMG Newsroom
1 November 2022, Loikaw, Kayah State

Junta artillery strikes killed five people and injured at least 20 others in Kayah (Karenni) State last month, according to relief workers.

The Myanmar military fired numerous artillery shells in clashes with anti-regime forces in Kayah State from October 6-26, with some shells landing and exploding in displacement camps, a Karenni aid worker said.

"The military fired at least 200 artillery shells in clashes with resistance forces in October. Many artillery shells fired by the military hit displacement camps," the aid worker added.

Five people ranging in age from 4 to 50 years old were killed, and 20 others were wounded by the shellings, according to the Shwe Loikaw rescue organisation.

"Children and the elderly were among those killed by the junta shells. A 4-year-old girl was killed by a shelling while she was playing at a playground in Loikaw on October 26," said a member of the Shwe Loikaw group.

Two children, a 4-month-old and an 8-year-old, were left orphaned after their parents were killed by heavy artillery fire inside a camp for internally displaced people (IDPs) in Demoso Township, he added.

The Karenni Nationalities Defense Force (KNDF) said the Myanmar military was firing heavy weapons into Kayah State displacement camps and villages where there were no indications of nearby conflict with anti-regime armed groups.

"The military conducts airstrikes and fires heavy weapons into residential areas and displacement camps without there being fighting," said a member of the KNDF.

DMG attempts to contact regime spokesperson Major-General Zaw Min Tun for comment on the Kayah State locals' accusations were unsuccessful on Tuesday.

There are also several IDP camps that have been moved to safer locations due to the military's targeting of residential areas and displacement camps, according to aid groups helping Karenni IDPs.