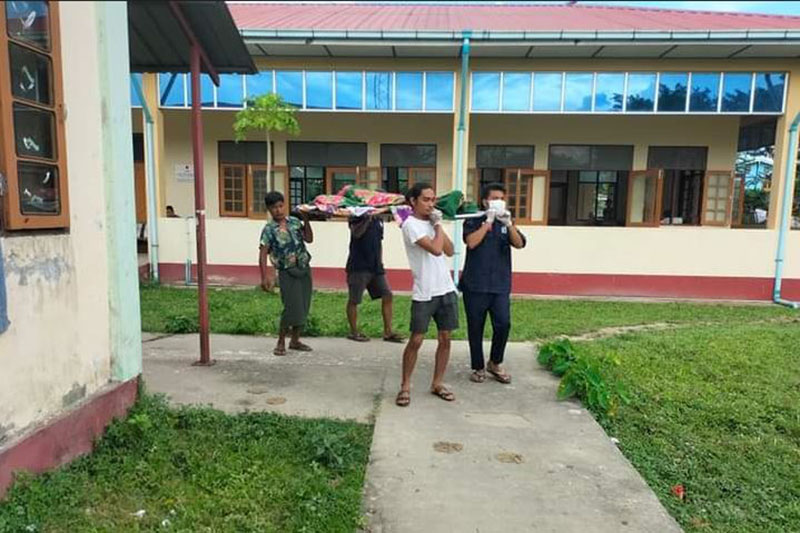 DMG Newsroom
5 November 2022, Kyauktaw

An elderly man who was gravely wounded by an artillery strike in Shwepyithit Village, part of Arakan State's Kyauktaw Township, on Thursday morning succumbed to his injuries in the hospital later that day.

U Maung Tu Chay, 86, sustained severe shrapnel wounds to his head at around 10 a.m. on November 3, and died four hours later after being admitted to Kyauktaw Hospital for treatment, a relief worker told DMG.

"He [U Maung Tu Chay] received medical treatment at the hospital, but we could not save his life. We are now working to bury his body," he explained.

A Muslim man who sustained serious injuries to his arms after an artillery shell fell and exploded in Letsaungkauk Village on Friday morning was transferred to Sittwe General Hospital from Kyauktaw Hospital, he added.

"The Muslim man had to have his arm amputated after being injured by the shelling. We transferred him to Sittwe and the remaining injured people are said to be not in critical condition," he said.

Two military vessels sailing along the Kaladan River to Kyauktaw from Sittwe were ambushed by the Arakan Army (AA) near a sugarcane mill in Kyauktaw at about 10 a.m. on Friday, according to locals.

Four locals were killed and 18 others injured when the military fired heavy weapons into local villages after some members of the Arakan Army shot at them, leading to an exchange of gunfire.

DMG attempted to contact Arakan State Minister for Security and Border Affairs Colonel Kyaw Thura and junta spokesperson Major-General Zaw Min Tun for comment on the matter, but they could not be reached. DMG continues to attempt to contact AA spokesman U Khaing Thukha regarding the matter.