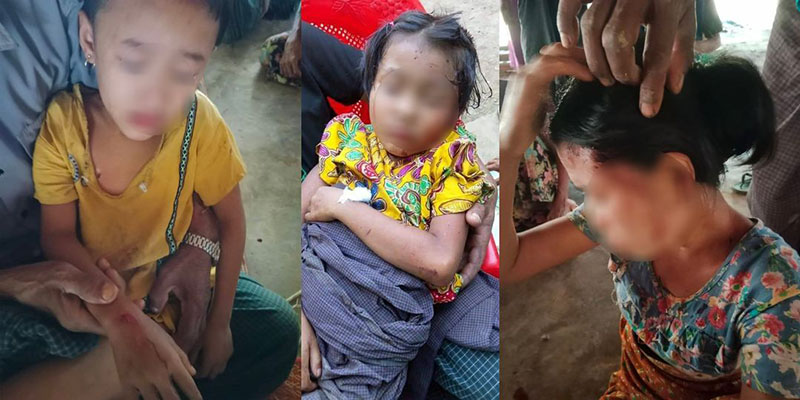 DMG Newsroom
11 November 2022, Kyauktaw

At least seven residents including two 7-year-olds were reportedly injured after artillery shells landed and exploded in Shwepyithit Village, part of Arakan State's Kyauktaw Township, at about 1 p.m. on Friday.

The injured have been identified as Ma Khaing Zin Phyo, 7; Ma Khin Saw Wai, 27; U Mya Aye, 62; U Hla Myint Aung, 73; Ma Aung Thaung, 29; Ma Hla Hla Kyawt, 7; and Ma Hla Than Soe, 17.

"Three artillery shells fell in the village," said a resident of Shwepyithit Village. "Seven people were wounded after one of the artillery shells hit a home. Three homes were damaged by the shelling coming from the direction of a sugar mill in Kyauktaw. The artillery shells are believed to have been fired by the military's No. 9 Military Operations Command."

As of press time, the injured were being transferred to Kyauktaw Hospital and U Hla Myint Aung, one of the victims, was said to be in critical condition, the villager added.

"An ambulance belonging to a local charity named 'Phyusin Myittar' transported the first batch of the injured to the hospital. An elderly man's condition is considered life-threatening," he said.

DMG attempted to contact Arakan State Minister for Security and Border Affairs Colonel Kyaw Thura and the regime spokesperson Major-General Zaw Min Tun for comment on the matter, but they could not be reached.

Two locals, including an 8-year-old boy, were killed and four others injured in an artillery bombardment from the military's No. 9 Military Operations Command into Shwepyithit Village, Kyauktaw Township, on November 4.