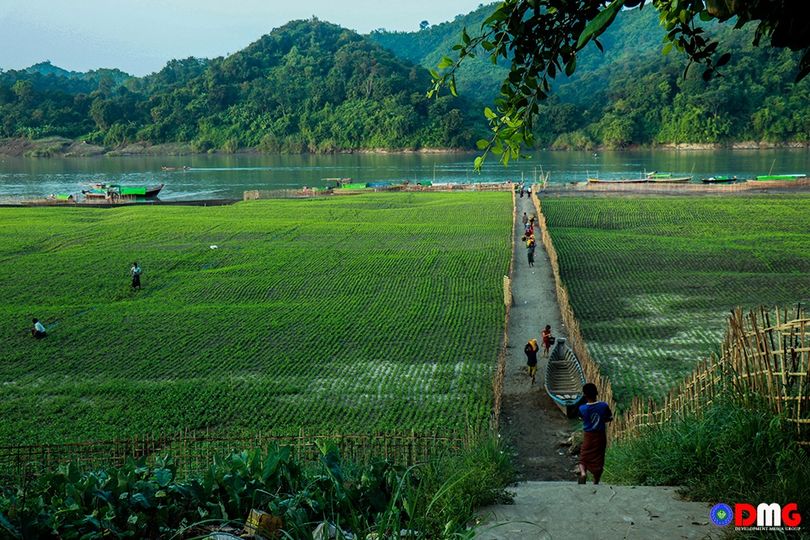 DMG Newsroom
19 November 2022, Sittwe 
Winter crop farmers in Arakan State are facing many difficulties due to months of increasing agricultural expenditures along with the ongoing fighting between the military and Arakan Army in various townships. 
"Some people grow winter crops, but some do not cultivate winter crops due to the shellings. I don't grow winter crops due to rising agricultural expenditures and labour expenses. I used to grow three acres of peanuts in the previous years," said U Kyaw Sein Win, a farmer in Mee Yat Pyin Village, Kyauktaw Township. 
Eggplants, chillies, maize, cabbage, Chinese radish and lady's fingers are grown in Arakan State on a commercial scale.  
Several people have left their homes and abandoned their farmlands as the military has raided many villages in Arakan State townships including Kyaukphyu, Ramree and Taungup, detaining dozens of residents on suspicion, according to locals. 
"Farmers are facing difficulties due to the increases in the costs of agriculture, and when there is an armed conflict, no one wants to invest in winter crops," said U Naing Naing Tun, a local farmer from Malakyun Village in Kyaukphyu Township. 
"The price for one bag of fertiliser was around K90,000 last year, but the price has increased to about K150,000," said Daw Khin Saw Win, an owner of the Shwe Thazin agricultural products shop in Kyaukphyu. "When the prices of pesticides, foliar sprays and seeds went up, the sales of agricultural equipment shops also fell a bit." 
Rising fertiliser prices have bedevilled farmers in Arakan State and across Myanmar since the military regime's February 2021 coup, with the renewal of conflict in Arakan State earlier this year making matters worse.  
There may be a need for food in Arakan State this year due to the difficulties faced by winter crop growers, said U Aye Tha Tun, who is in charge of the Farmers' Union in Pauktaw Township. 
"Fertilisers, pesticides, and gasoline prices have gone up more this year than last year, making it difficult for farmers to even irrigate their fields," he added. "Due to these difficulties, agricultural land will become empty and the demand for crops will be high." 
Since last year's military coup, the prices of other goods have also increased — in some cases exponentially — with the costs of basic food items such as rice, cooking oil, and iodised salt tripling. Consumers on the lowest rungs of the socioeconomic ladder have faced the greatest financial hardship as significant inflationary pressures have affected many aspects of daily life.