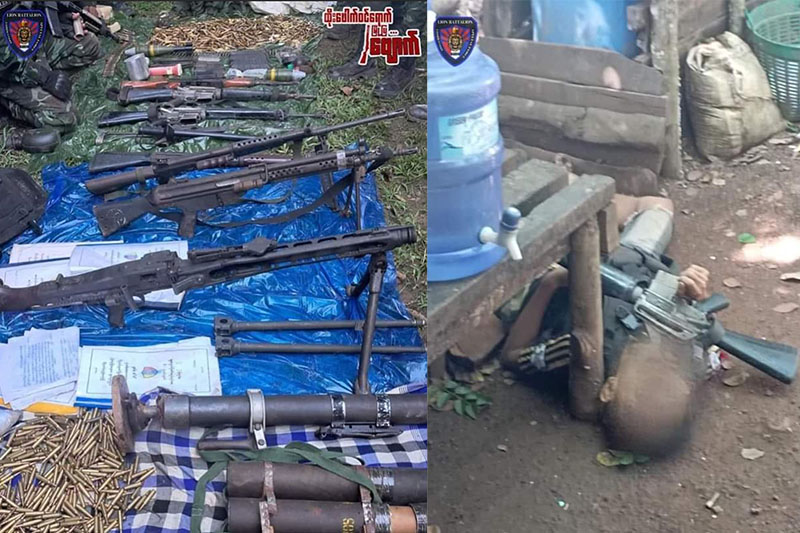 DMG Newsroom
23 November 2022, Kyaikmaraw

Junta troops carried out an air attack on Taung Kalay Village in Mon State's Kyaikmaraw Township after the combined forces of the Kaw Thoo Lei Army (KTLA) and Karen National Liberation Army (KNLA) Battalion 16 seized a junta police outpost at the village early Monday morning.
More than 2,000 villagers were forced from their homes and one civilian was killed in the junta air raid that followed a firefight between regime troops and the ethnic Karen groups. The Myanmar military ran bombing runs for much of the day in the vicinity of Taung Kalay Village using two helicopters and three fighter jets, according to a KNLA source.
"We raided the police outpost at 4 a.m., then three junta fighter jets bombed near the outpost. Then, two helicopters from Mawlamyine bombed near the village almost the whole day," said the source.
Some 2,000 residents of the village were forced to flee their homes, according to locals.
"We were under continuous bombardment, and we dared not stay in the village, and fled into the nearby forest," said a displaced villager.
Junta troops in Mudon Township and two tanks deployed near Kyantaw Village also unleashed a barrage of mortar shells in the direction of Kadar, Hlar Kazine and Kyantaw villages, which neighbour Taung Kalay.
Five houses and a monastery were damaged in Taung Kalay, and a 40-year-old resident was killed by an artillery strike, according to a local social organisation, which said about 10 others were injured.
"The village was hit by a rocket fired by a junta helicopter. And houses were damaged by mortar shells. One villager was fatally hit by an artillery strike," said a member of the social organisation from Taung Kalay Village. "Charities from Mudon and Mawlamyine that came to rescue the injured were not allowed by the military to enter the village, and they had to wait for almost the whole night [before they were permitted to enter]. So, only we were there to give first aid to the injured until then."
Sixteen junta soldiers and police including a captain from the Myanmar military were killed in the attack on the outpost in Taung Kalay, and firearms and ammunition were seized, according to a KTLA commander.
DMG was unable to independently verify casualty figures, and attempts to obtain comment from junta spokesman Major-General Zaw Min Tun were unsuccessful.