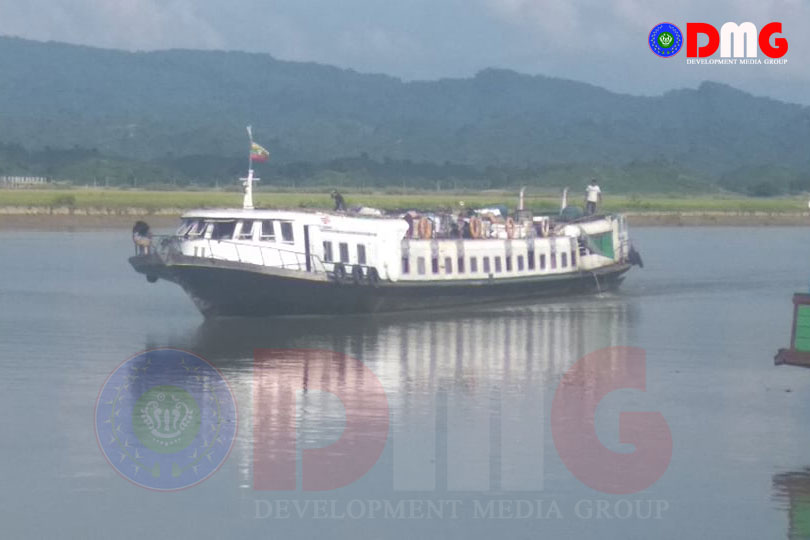 Cha Lu Aung /DMG
29 October, Sittwe
Buthidaung township court on 29 October remanded eight people including the owner of Shwe Nadi express boat service following the AA's abduction of passengers on-board, according to a family member of the detained people.
The owner U Shwe Than, helmsman U Kyaw Min, clerk U Ba Saw, crew Nyi Nyi Aung and Ko Thar Tun, engineer Thar Gyi (aka) Ko Saw Thein, sailor U Ba Tun and Ko Nyein Soe Naing have been placed in custody.
"They were remanded today. They don't know the charges that will be brought against them," said a family member of U Shwe Than, the owner of the boat.
Colonel Win Zaw Oo from the Western Command said: "They are responsible for the case, so they have been questioned. If they have been involved with the AA's abduction of government personnel, they will be charged accordingly."
Their case will be heard on 12 November.
The AA said that it stopped the vessel near Yay Myet village, Rathedaung Township, on 26 October and abducted suspected people because it had heard that military personnel were on the boat posing as civilians.
The State-owned newspapers said that the AA abducted 14 military personnel, 29 police, two staff form the Department of Prisons and 13 civilians.
The Tatmadaw said that the boat was stopped and passengers were arrested after leaking information of military passengers traveling to Buthidaung.
It also announced that 15 abductees have been rescued and a search and rescue operation was being conducted to find remaining abductees while an investigation is underway for the Shwe Nadi boat service.