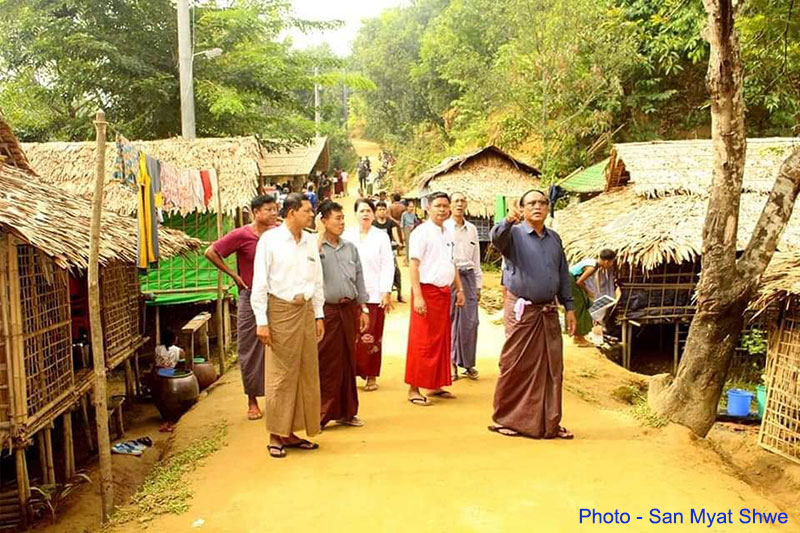 Cha Lu Aung/ DMG
30 October, Buthidaung

Arakan State Hluttaw Speaker U San Kyaw Hla counselled IDPs that peace was essential to return home and urges them to pray for peace when IDPs in Buthidaung town of Arakan State reported to him their desire to back home.
U San Kyaw Hla and MPs visited IDPs camps in Yan Aung Myay and Lanma monasteries in Buthidaung town on 26 October.
"There is a plan to sign a bilateral ceasefire agreement in next month. If this agreement is signed, I hope that IDPs can return home. Please pray for peace. Peace is absolutely necessary for IDPs to return home," he told refugees.
The government said on 25 October that there is a plan to sign a preliminary bilateral ceasefire agreement with the Northern Alliance of four ethnic armed groups - the Kachin Independence Army (KIA), the Ta'ang National Liberation Army (TNLA), the Myanmar National Democratic Alliance Army (MNDAA) and Arakan Army (AA) - at a meeting which will be held from 5 to 10 November.
By signing this agreement, clashes would end and war refugees could return homes, said State Hluttaw Speaker.
Dr Nyo Twan Aung, the AA's Vice-Chief of Staff, told the media after the meeting held in Kengtung on 17 September that both sides misunderstood the points that are included in the bilateral agreement although they discussed on signing preliminary bilateral ceasefire deal at the meeting.
The Tatmadaw said at a press conference held on 26 October that signing bilateral agreement would depend on the ethnic armed groups.
Both sides agreed to meet again in October to continue discussing seven points including signing a preliminary ceasefire agreement at the meeting held on 17 September but failed.
During State Hluttaw Speaker's visit to IDP camps in Buthidaung town, refugees reported that they want to return to their homes.
"We had to leave our cattle and homes at our villages to flee for safety. We don't know what's happening at our villages up to now. We want to live in our villages peacefully and do our work. So please help us to return to our homes," said Daw Ma Bu, a refugee who is sheltering in Buthidaung town.
More than 1100 refugees from over 310 households are sheltering at Yan Aung Myay and Lanma monasteries in Buthidaung town.
The IDPs fled from Oo Yin Thar, San Goe Taung, Si Taung, Tha Yat Pyin, Pyin Chaung, Zee Ywar, Myoma Chaung, Nwar Yone Taung, Kyauk Yan, Kyar Nyo Pyin, Kun Taung, Sa Par Htar and Shit Shar Taung villages due to the skirmishes between the Tatmadaw and AA in Buthidaung Township.
The number of IDPs has now reached over 65,000 due to the fighting in Arakan State and it is increasing because of ongoing fights.