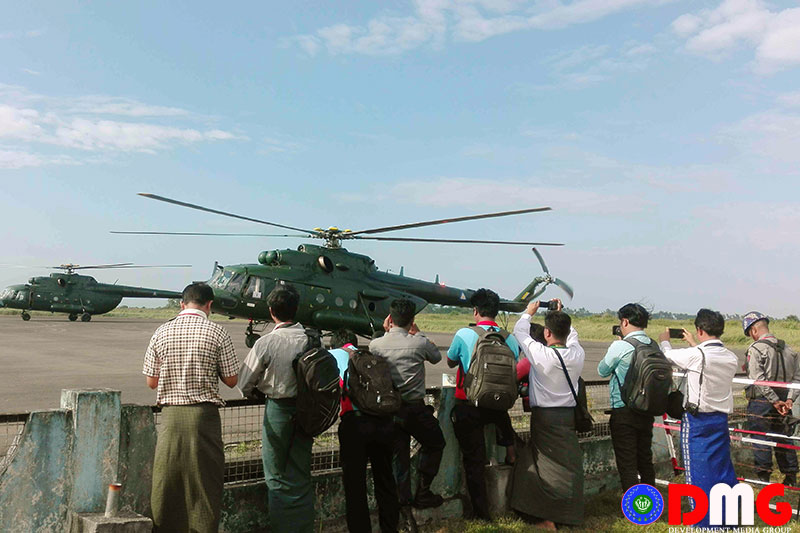 Kyaw Thu Htay | DMG
31 October, Sittwe

Since hostility in Arakan State has been intensifying and controversial accusations on both sides occur very often, journalists should have free access to information in the region to let known people the truth, the Arakan Army says.
The Tatmadaw released a statement on 28 October that the AA attacked a military column by taking cover of the religious buildings in a monastery compound from Zedi Taung village in Buthidaung Township.
It also said that members of the AA are living among local people wearing civilian clothes and they ambushed or attacked military troops by using civilians as human shields.
The AA's spokesperson Khaing Thukha denied the accusation of the Tatmadaw and urged that the media should have free access to information.
"If Tatmadaw claimed that they were not positioned in the village, let journalists collect information freely in villages. We do welcome the media to give information. The Bamar army is trying to hide their offences and are distributing disinformation. They only use civilians as cover when they fire weapons," Khaing Thukha said.
U Zaw Htay, spokesman of the Myanmar President Office, said that it was difficult for the government to arrange sending journalists to conflict affected areas in Arakan State.
"Currently, the fighting area between the Tatmadaw and the AA has been wider. So, it is a challenging situation for us to allow the media access to areas of engagement," he said in the recent press conference held at the Presidential Palace.
The Myanmar government cut off the Internet in conflict affected areas _Mrauk-U, Kyauktaw, Minbya and Ponnagyun Townships_ since June 21.
Locals and CSOs see that the government's Internet ban is limiting local people's freedom of expression and the right to access to information.