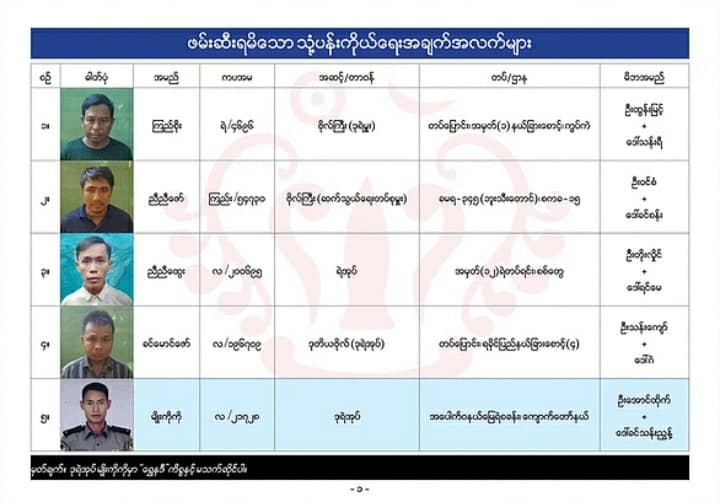 Kyaw Chit | DMG
November 12, Sittwe

The Arakan Army (AA) issued a statement on November 11 which asked the Tatmadaw to exchange prisoners.

The AA said that it is ready to release 17 people associated with military if the Tatmadaw releases the civilians who were detained under many different acts and people who were detained and accused of having links with the AA.

The statement mentioned that the AA wished to exchange the detainees if anyone was able to negotiate between the two groups.

"The AA treats prisoners properly, we hope that the Tatmadaw treats detained civilians well also," the AA said in the statement.

17 people, including a deputy police officer Myo Ko Ko from Kyauktaw township, who the AA are holding are Tatmadaw soldiers and a policemen taken from Shwe Nadi express ferry.

On October 26, the AA stopped the Shwe Nadi express ferry near Yay Myat village in Rathedaung Township and took suspicious people with them from the express ferry. As the detainees were moved to the AA's boats from the ferry, the Tatmadaw soldiers shot at them from three helicopters.

The AA said that the helicopter attack killed Tatmadaw soldiers, policemen and civilians and it was able to save 25 civilians and some Tatmadaw soldiers and policemen.

On November 5, the AA released 25 civilians and has asked Tatmadaw to exchange 16 remaining Tatmadaw soldiers and policemen.

But the Tatmadaw True News Information Team told the media that they would never negotiate with terrorist groups.