Junta ministers visit Muslim refugee camps in Bangladesh
Junta-appointed ministers visited Muslim refugee camps in Bangladesh on Wednesday as part of the Myanmar regime's repatriation plan.
By QRT 15 Mar 2023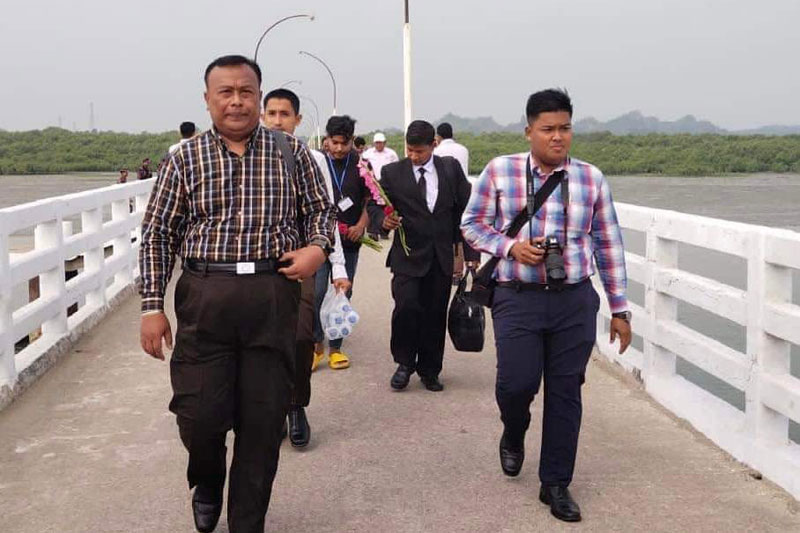 DMG Newsroom
15 March 2023, Sittwe
Junta-appointed ministers visited Muslim refugee camps in Bangladesh on Wednesday as part of the Myanmar regime's repatriation plan.
A team of junta officials led by social welfare minister U Aung Myo and Maungdaw district administrator U Ne Oo met Muslim refugees in Teknaf on Wednesday morning.
The names and household registration documents are being reviewed as the regime plans to bring back some 1,000 Muslims in the first phase of its repatriation programme, according to refugees.
Ko Aung Myaing, a Muslim refugee from Kutupalong refugee camp, said: "[Junta officials] are meeting refugees in the town. They said they would take back 1,000 people in the first phase. They are checking the household registration documents of refugees against their documents."
Muslim refugees were, however, not told when the repatriation would start. Muslim refugees said they would not return to Myanmar unless they are guaranteed citizenship, safety and settlement in their places of origin.
Another refugee from the Kutupalong camp said: "They must grant us citizenship if they are to take us back. And we can't live in those transit camps. We have places where we have lived for generations. Unless we are permitted to live back there, we won't come back."
According to the military junta, the potential returnees must have lived in Myanmar, and must want to return to Myanmar of their own volition. In cases of children born in Bangladesh, both parents must have lived in Myanmar, and local Bangladesh courts must certify that the children were born after their parents arrived in Bangladesh.
The regime has prepared transit camps at Taungpyo Letwe, Nga Khu Ya and Hla Poe Kaung in southern Maungdaw Township for returnees from Bangladesh.
Arakanese politician U Pe Than told DMG that the regime is only trying to salvage its international image by bringing displaced Muslims back into Myanmar.
The Arakan Army has expressed similar views, saying the regime is doing so in the hope that the move will win diplomatic recognition.
Foreign diplomats from China, India and Bangladesh and officials of the ASEAN Coordinating Centre for Humanitarian Assistance on Disaster Management visited officials at transit camps in Maungdaw on March 8.
The junta's international cooperation minister U Ko Ko Hlaing, border affairs minister Lt-Gen Tun Tun Naung, social welfare minister Daw Thet Thet Khine also visited the transit camps in early January.
More than 700,000 Muslims fled to neighbouring Bangladesh when the Myanmar military carried out "clearance operations" following the Arakan Rohingya Salvation Army's attacks on several police outposts in 2017.
The United Nations' human rights chief at the time described the military's actions as a "textbook example of ethnic cleansing," while others in the international community have called it genocide, including Bangladesh's former foreign minister and the US secretary of state.