Challenges of Myanmar-Bangladesh border trade
People were permitted to cross Maungdaw border gate, which connects Myanmar and Bangladesh, with one day or seven day visas before. However, border crossing has been banned between two countries after ARSA's attacks occurred in 2017.
By Kyun Thar Nga Mann 28 Nov 2019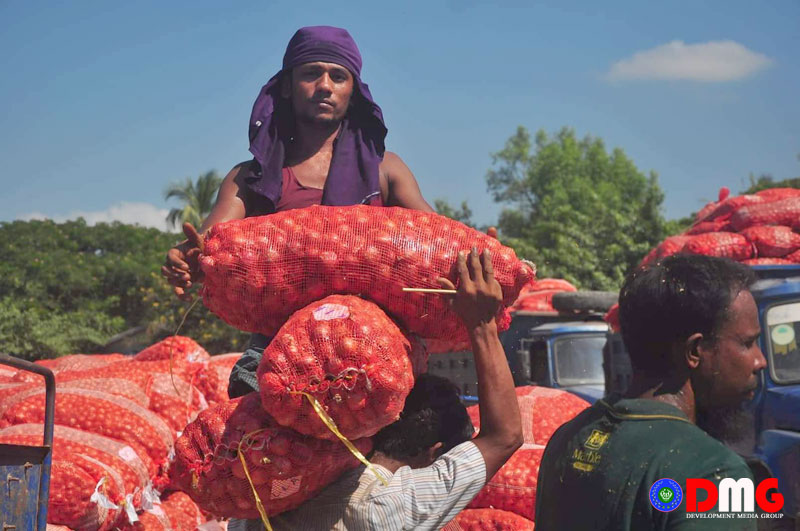 By Kyun Thar Nga Mann | DMG
 
Consumer goods that are mainly exported this year via the Maungdaw border trade center, one of Myanmar-Bangladesh border trade centers, are marine products, ginger and onions. Onions are the major export. In September, 180 tons of onions worth US$ 79,950 were exported while 1,175 tons of onions worth US$ 696,600 were exported in October.
 
Onion production declined in India, an onion exporter to Bangladesh, due to severe weather. The Indian government suspended onion exports to meet domestic onion consumption and that is why; Bangladesh bought onions from Myanmar more than before.
 
Myanmar's second largest export commodity to Bangladesh is fresh water rohus (Labeo Rohita). In October, 319 tons of rohu fish worth $294,355 and 46 tons of different kinds of dried fish worth $28,935 were exported to Bangladesh.
 
The Myanmar-Bangladesh border trade port, which is located in Maungdaw creek in Maungdaw town, buzzes with activity; bags of onions are transferred onto small motor boats which stop in the creek to run to Bangladesh.
 
About 40 to 80 tons of onions are exported to Bangladesh per day via the Maungdaw border trade port and three to five motor boats run daily for exporting onions. Onion trucks arrive at Maungdaw daily via Sittwe. The long line of onion trucks wait along the road to the port to unload onions.
 
Trader, U Than Shwe Maung worries about this scene. The current port where trade between Myanmar and Bangladesh is carried out has faced challenges in exporting commodities now. The creek is drying out and is also narrow. So, large cargo boats cannot stop at the port, only small motor boats that can carry 8 or 10 tons of goods can stop at the port. 
 
In spite of boats being loaded with commodities, they have to wait for the high tide. It is not convenient for trading. Traders worry they can't export goods in time. Onions which will be exported to Bangladesh are not from Arakan State. They are transported from Yenangyaung, Myitthar, Seikphyu which are situated in the east of Arakan Roma Mountain Range.
 
Onions need to be properly stored by spreading them out, if they're packed up too long, they go bad. The transportation time by truck from the eastern part of Arakan Roma Mountain Range is between six or seven days, by the time they reach Maungdaw no one knows what condition they will be in.
 
U Than Shwe Maung feels bad because he has no control over this situation. Traders export goods to Bangladesh but sellers and buyers never meet each other. They export commodities through their agents from Bangladesh. So, they have to accept what the agents decide on the amount of the good onions they received.
 
U Than Shwe Maung doesn't have the chance to go to Bangladesh. He, however, can make contact with their agents in Bangladesh by phone. He has two mobile phones; one is for contacting with agents in Bangladesh and the other is for keeping in touch with local businesspeople.
 
Myanmar-Bangladesh border trade centers
 
It has been about three decades since Myanmar and Bangladesh agreed to do border trade and U Than Shwe Maung also started doing border trade at that time.
 
As Myanmar negotiated with Bangladesh for border trade, officials from both sides signed a preliminary agreement at Hotel Shaibal in Cox's Bazar, Bangladesh, on 7 September, 1989. After both sides kept discussing details, a Memorandum of Understanding was signed on 18 May, 1994, legalizing informal border trade between the two countries. Myanmar-Bangladesh border trade based in Maungdaw started on 5 September, 1995.
 
Traders from Sittwe exported their goods to Bangladesh via Maungdaw - the only border trade center. After starting border trade, freshwater fish, rice and salt were exported to Bangladesh as new export commodities.
 
These goods were transported from Sittwe to Buthidaung via water routes then they were sent to Maungdaw from Buthidaung by trucks. Since both land and waterway routes were used to carry goods, it cost a lot to maintain goods in good condition as well as commodities that were damaged or lost.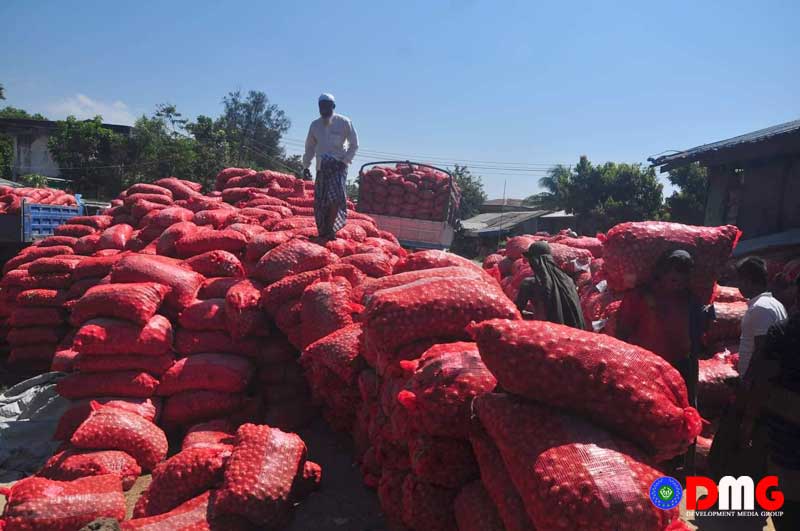 That is why Arakan State Federation of Chamber of Commerce and Industries submitted statements to the Ministry of Trade about this matter and it was allowed to open the Sittwe border trade camp in November, 1997. Border trade started 28 December, 1998.
 
It was allowed to export goods from Sittwe to Teknaf border trade center in Bangladesh via waterway routes. There is no need to go to Maungdaw.
 
The Sittwe border trade camp was opened two years after Maungdaw border trade camp was opened.
 
Problems and challenges regarding border trade
 
People were permitted to cross Maungdaw border gate, which connects Myanmar and Bangladesh, with one day or seven day visas before. However, border crossing has been banned between two countries after ARSA's attacks occurred in 2017.
 
In spite of discussions with officials from Bangladesh Consulate at bilateral meetings, an agreement to reopen the border gate from Maungdaw district side has not been made so far. If traders are able to travel officially and freely between two countries, it will be convenient in trading. The ban creates obstacles for both economic and personal relations.
 
Since the border has been closed, traders like U Than Shwe Maung are worrying that Bangladeshi traders would manipulate the price of goods when their goods arrive in Bangladesh because only goods are exported and they cannot go there themselves. Thus, they feel border trade will become unfair.

"We export commodities to Bangladesh. However, we are not allowed to enter Bangladesh. We have to accept the prices that Bangladeshi traders offer us. There are many goods which are damaged after arriving in Bangladesh. You can imagine how much of the consumer goods are tainted or left behind," said a trader who does border trading. Traders also worry that prices of their goods are manipulated.
 
"Although we make a profit, it's not our expected amount. For example, Bangladesh buys rice from us but they increase the customs rate three times for rice exported from Myanmar. They don't say they don't buy goods. They buy our goods but increase the customs rate for us. It is a tactic," said an observer.
 
Although Bangladesh imports goods from Myanmar, it creates an unbalanced trade.
       
"They have done things like this before. Although they want to buy goods from us, they manipulate the prices and buy goods at lower prices. They get what they want to buy from Myanmar using sneaky and unprincipled methods. They buy goods via illegal border trade routes. Rule of Law is needed to block these illegal routes. However, it's easier said than done," said an observer.
 
Nevertheless, Myanmar-Bangladesh border trade actively continues. Onions are exported from not only Maungdaw border trade camp but also Sittwe border trade camp via waterway routes.
                               
Maungdaw (Kanyin Chaung) Economic Zone
       
The Maungdaw (Kanyin Chaung) Economic Zone is being built to promote regional stability and socio-economic development. The economic zone is built on the land beside a river in Kanyin Chaung - which is located two miles away from Maungdaw town - which can allow cargo ships, according to the permission of Arakan State Government.
 
One reason for building the Maungdaw (Kanyin Chaung) Economic Zone is that Maungdaw creek, the current place where trade is being carried out is gradually drying up and water levels are decreasing so this puts big boats at a disadvantage to transport goods.

 
The new port which will be built in Kanyin Chaung is able to accept cargo ships with 2000 or 3000 tons of freight and ships are able to run without waiting for rising tides. In addition, frozen storage facilities and warehouses will be included in Kanyin Chaung Economic Zone; they can be used to house goods before transferring them from the buyer to the seller.

The current market is buyer's market because traders have to talk with their trading partners from Bangladesh only after their goods are exported there. As it is impossible to carry their goods back to Myanmar, they have to accept what their trading partners said. It has been planned to change the Kanyin Chaung Economic Zone from a trading zone to an economic zone. By doing this, new factories will emerge in the region and job opportunities can be created for locals.
 
It takes about 30 to 45 minutes to go to the border trade port in Bangladesh from Kanyin Chaung port. As loads of goods are able to be exported promptly, it can reduce time and costs in trading, so the country will benefit.
 
Moreover, as an economic zone, it can promote production and economic development. That is why 152.49 acres of land is estimated to be used for building an economic zone instead of 49.6 acres of land which was previously estimated to build a trading zone.
         
If Kanyin Chaung Economic Zone is finished, goods which will be exported from Myanmar can be stored there and traders from Bangladesh's cities such as Chittagong and Dhaka can come to the economic zone to meet Myanmar traders to set the prices of commodities. By re-allowing one day and seven-day visas for cross border trade, traders can meet directly with their trading partners from other side to negotiate the prices of goods.
 
Traders had to talk with agents and brokers before prompting dubious price fluctuations and economic losses. If traders can go themselves, these challenges will clear at all.
 
U Than Shwe Maung looks at the current loading zone with heavy heart and looks forward to the time that Kanyin Chaung Economic Zone will be up and running.