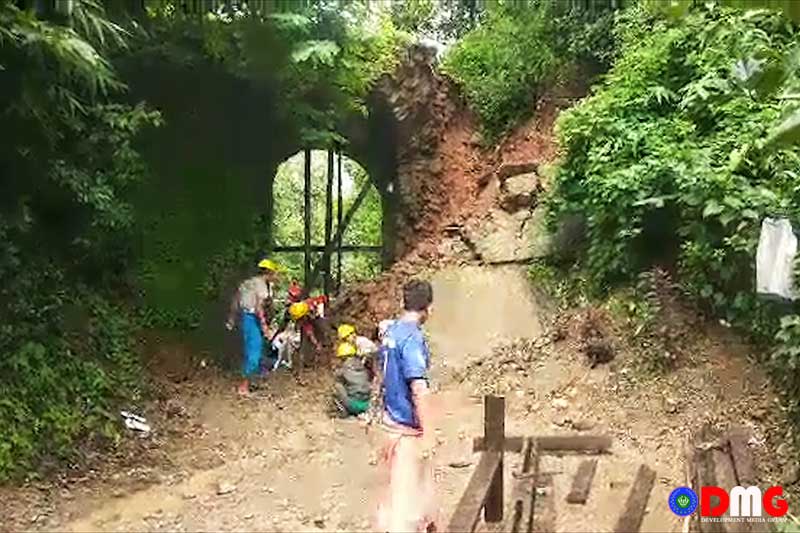 Kyaw Thu Htay | DMG
September 13, Sittwe

Mrauk-U Archaeology Department has requested Nay Pyi Taw to provide funding for urgent repairs to the historic Mauk Taw gate in Mrauk-U ancient city, Arakan State.

Dr Than Htike, director of Mrauk-U Archaeology Department, said that the right side of Mauk Taw gate became split in half due to heavy rain on September 8.

"We submitted a request to Nay Pyi Taw to give the funds to repair the door according to the Archaeological rules," Dr Than Htike told DMG.

Mauk Taw gate was built from stone during the Mrauk-U era and is one of the area's historic buildings.

Dr Than Htike said that they cannot repair the destroyed part with modern building materials such as brick and will start the renovation work as soon as they receive the necessary funds.

Daw Khin Than, chair of Mrauk-U Archaeology Culture Conservation Group, said that the gate fell down because it didn't receive proper maintenance in time.

Mauk Taw gate is situated between Lay Kway Mountain and Rathedaung Valley in Sapar Seik ward, Mrauk-U town, and is one of the few remaining gates among the 30 that once stood at Mrauk-U.

Mrauk-U is an ancient city with historical significance, and the authorities are trying to have it added to the UNSCO World Heritage List.
Related Posts :
Mauk Taw gate of Mrauk-U broken due to lack of timely maintenance
Drafting Mrauk-U region nomination for World Heritage Site finished
Draft proposal for designation of Mrauk-U as world heritage zone almost finished