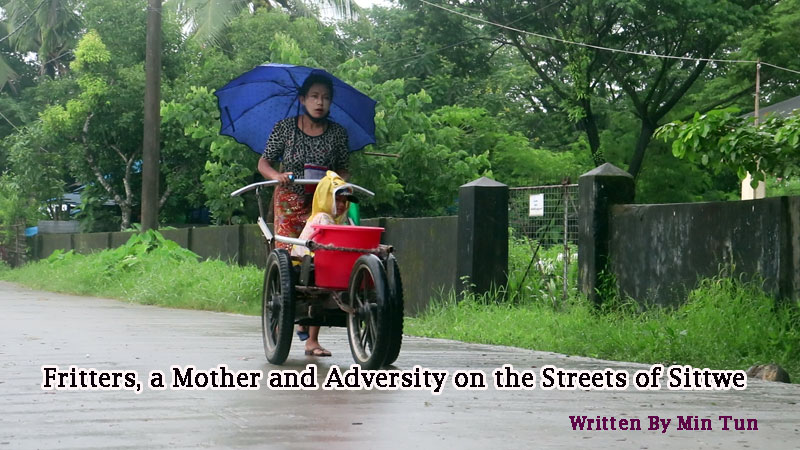 Written by Min Tun

Forty-six-year-old Daw Than Than Win, who earns her living by selling assorted fritters, has a clear voice on the Mayu Road in Sittwe early in the morning.

A three-wheeled cart makes its way down the road, loaded with red plastic receptacles containing various fritters, and her 4-year-old son.

"I have to sell assorted fritters even if it is raining. If I don't sell fritters for a day, I face livelihood difficulties," she said.

The rainy season makes it even harder for Daw Than Than Win and her son to wheel their way down the muddied Mayu Road. She has been selling assorted fritters in this three-wheeled cart for more than four years now.

With no relatives in Sittwe to watch her son, Daw Than Than Win has been taking him along with her from the beginning.

"I'm worried that if I leave him at home, he will get lost playing. It is safe if my son is with me," she said.

Daw Than Than Win was born in Pan Thee ward of Arakan State's Pauktaw Township. She has five siblings; both of her parents have died. She says all of her siblings are struggling to make ends meet and live in separate locations.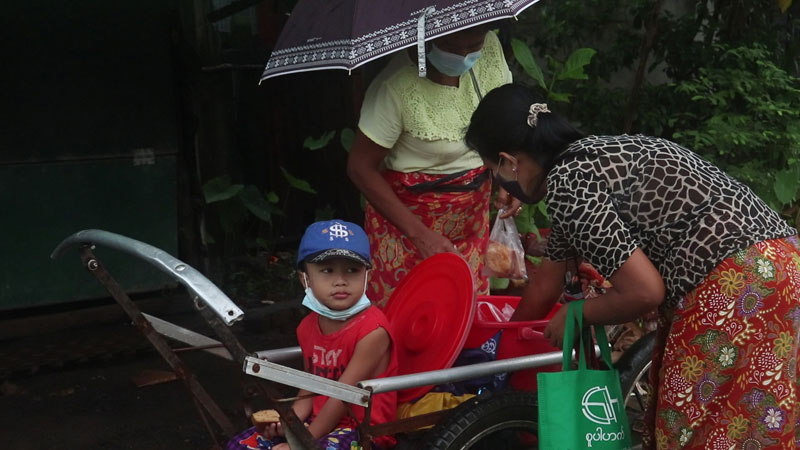 At age 38, Daw Than Than Win married a man named U Maung Maung Than while working in a factory in Yangon. U Maung Maung Than was born in a village in Maungdaw Township.

After they wedded, they stopped working in Yangon and returned to their homeland, Arakan State, where they lived and rented a house in Sittwe.

For a time, Daw Than Than Win ran a betel shop in front of the hospital in Sittwe, with the help of a friend, and her husband worked as a trishaw driver. But the friend fell upon hard times and Daw Than Than Win gave up her stake in the enterprise to help her friend out.

Meanwhile business was not good for her husband as a trishaw driver, leaving the family struggling to make ends meet. Her husband decided to look elsewhere for work.

Daw Than Than Win said her husband wanted to live and work with his wife in Sittwe, but had to move to Yangon due to a shortage of job opportunities in the Arakan State capital. Daw Than Than Win was in the fifth month of her first pregnancy when her husband left for Yangon to seek a job.

"He left home for Yangon to seek a job when I was in the fifth month of pregnancy. It has been more than four years now. He hasn't been seen or heard from since then. His whereabouts are still unknown," she said.

When U Maung Maung Than left home, Daw Than Than Win was living in Sittwe's Mee Laung Kwin ward. She made ends meet selling petrol at a friend's betel shop in the neighbourhood.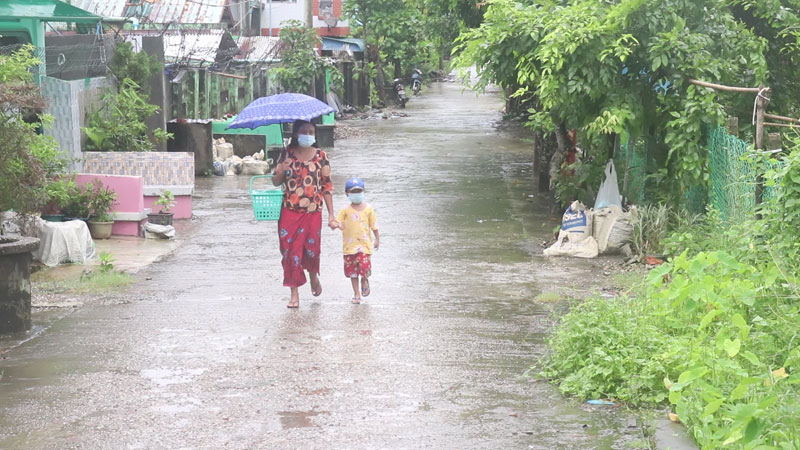 "I gave birth by caesarean section at Sittwe General Hospital. I was furnished with over K150,000 as I gave birth to a boy. My friends also provided me with some money," she said.

When her son Maung Lin Lin Phyo was 5 months old, she began selling assorted fritters from her three-wheeled cart with infant in tow, and the pair have been doing it ever since.

More than a year after he left, her husband contacted her for the first time. He said he was working and would remit money to her.

It was the last time Daw Than Than Win heard her husband's voice. She has not been in contact with him for more than four years.

The fried treats — paratha, Chinese breadsticks, sticky rice balls and samosas — that Daw Than Than Win sells are not her own. She is effectively a retailer of someone else's products, and profit margins are slim. Daw Than Than Win buys assorted fritters at 5 a.m. and sells them with her son until 9 a.m.

"I make a maximum of K200 profit if I sell six assorted fritters for K1,000," she explained.

What's more, Covid-19 has affected Daw Than Than Win's livelihood: Prior to the pandemic, it was relatively easy to sell assorted fritters, but sales have not been good for months.

"In the past, when I went to a place, about 10 people bought assorted fritters. Now only three people buy, so it is not convenient for us," she said.

"Some days, I've had to borrow money from my neighbours to have the capital" to buy fritters, she said, adding that there have been days when she's had to wait for a better sales day before repaying a loan.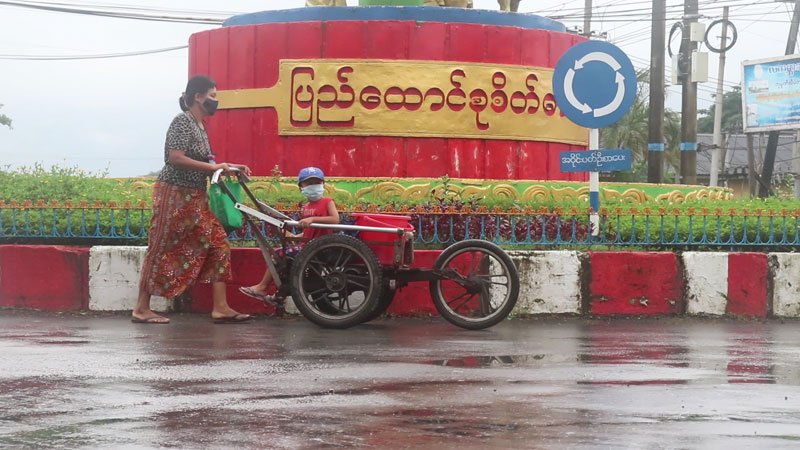 At present, Daw Than Than Win and her son live in a different Sittwe neighbourhood. They have no home of their own and rent a small room, so both food and rent are regular expenses that she struggles to meet.

She pays K1,500 a day to rent the small room, about K45,000 a month, to the house owner, whom she describes as an understanding landlord.

But the homeowner has told Daw Than Than Win that the house will soon be sold. There is no guarantee that she will find suitable alternative accommodation at a price she can afford.

"I do not know where to move. I'm sad about that one. If I move to another location, I may spend at least K50,000 per month on lodging," she said.

"I have been renting a room for 10 years now. I wonder if I will ever be able to live in my own home," she said.

Despite all the grief that comes with the human condition, Daw Than Than Win is determined to do her best not to give up hope. She has a strong desire to nurture her 4-year-old son into a disciplined and educated young man.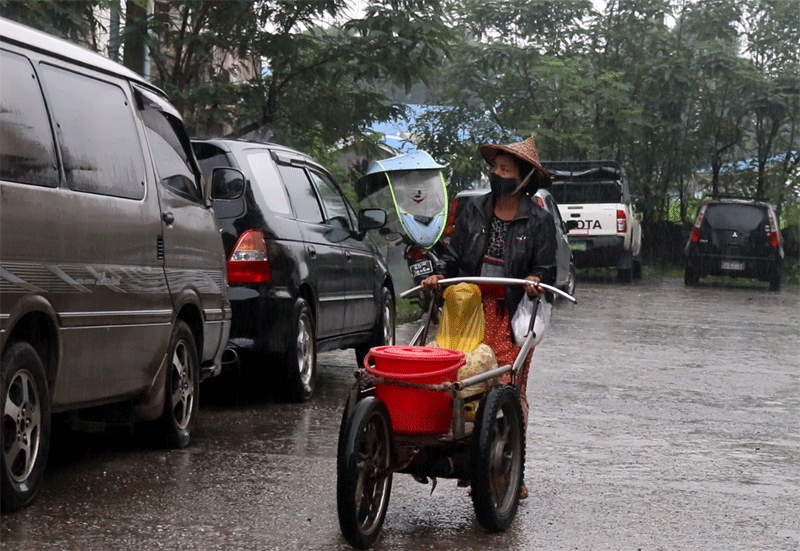 "I will train my son to be literate and disciplined," she said.

A Buddhist, Daw Than Than Win believes in karma and has made her peace with the difficulties she faces daily.

"I believe I experienced such situations due to my past deeds. … I no longer have anger or delusions, I just calm down with Dhamma," she said.

Daw Than Than Win is determined to earn as much money as she can, and wants to one day run a small grocery store. Until then, she can be seen in the early morning hours walking the Mayu Road in Sittwe with her three-wheeled cart and 4-year-old son, hawking assorted fritters and refusing to be cowed by the hand life has dealt her.