Devoted teacher still languishes behind bars
Ko Tun Aye was arrested after the Reuters news agency reported on the killings of ten Muslim men from Inn Din village during the 2017 violence that erupted. Before that case, Ko Tun Aye's father was killed by terrorists.
15 Jun 2019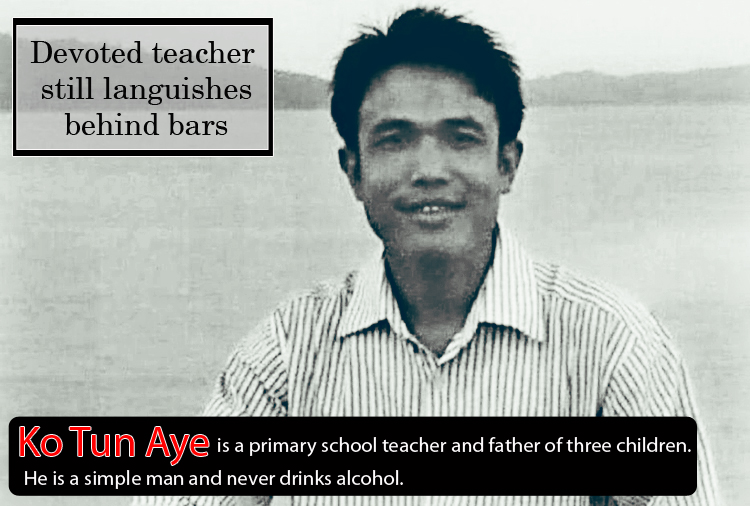 Sein Ko Ko | DMG

Daw Yaing Nu Phyu is a 70-year-old woman and mother of Ko Tun Aye from Inn Din village. Her son was jailed for being involved in the killings of ten Muslim men.
Regardless of her age, the love she has for her son will never fade away. She seems anxious about her son, waiting for the day he is released from jail. Her grief intensifies as tears of sorrow roll down her cheek.
Wiping back her tears, she said "I cry every day and I've lost my motivation and will to do day-to- day tasks because I miss him all the time. When amnesty was announced, my other sons told me to listen and see if he would be included on the list of amnesty pardons. But he was not granted a pardon although pardons were issued three times."
Ko Tun Aye was arrested after the Reuters news agency reported on the killings of ten Muslim men from Inn Din village during the 2017 violence that erupted. Before that case, Ko Tun Aye's father was killed by terrorists. Then, he was arrested for being involved in the killings and jailed for five years.
In addition, seven military personnel, two Reuters reporters and police officer Moe Yan Naing were also sent to jail. But, apart from Ko Tun Aye, all of them have been released from prison now.
Daw Khin San Myint, wife of Ko Tun Aye, said that her husband should be released along with the others as part of the presidential amnesty.
"I heard that all security force members and military personnel were free from prison. Two reporters who revealed the killings have also been released. I want my husband released as well," she said.
The CID searched Ko Tun Aye's house while he was detained but no evidence connecting him to the killings has been found. And 12 witnesses for the prosecution said there are no eyewitness to prove he was involved in the killings.
One year after he was prosecuted, the court sentenced him to five years in prison for the killings. The case did not identify the victims, but his arrest is based on the accusation that he committed the killings out of revenge for his father, said his lawyer U Khin Win.
"He was punished according to policy although witnesses' testimony prove that he did not participate in killing the ten Muslims," he said. 
At first, Ko Tun Aye and his younger brother were arrested, the lawyer said. He submitted an appeal to the high court of Arakan State, but it was also rejected, he added.
Ko Tun Aye is a primary school teacher and father of three children. He is a simple man and never drinks alcohol, said his friend, Inn Din village administrator.
"Tun Aye is a teetotaler. He is a good man. He lives his life simple," he said.
After the 2017 violence conflict, Ko Tun Aye's family was in trouble in Inn Din village. His mother Daw Yaing Nu Phyu lost her husband and their livestock farm, then to make matters worse her son was jailed for five years. Daw Yaing Nu Phyu said she submitted petitions to proper authorities to release her son.
Four military officers and three soldiers with other ranks were released because the Commander-in-Chief granted pardons, according to the government.
Moreover, police constable Zwe Maung Maung was sentenced three years imprisonment under the Myanmar Police Force Maintenance of Discipline Law, but not punished for murder. He made an appeal that reduced his sentence and was released on 8 May after he served one year and seven months in prison, U Zaw Htay told media.
U Maung Ohn, a lawmaker from Maungdaw Township, said that Ko Tun Aye's jail sentence was a set up and believed that Ko Tun Aye could not have carried out the killings.
Taking in account the whole situation it seems that Ko Tun Aye has been in prison way too long, U Maung Ohn said: "From my point of view, he should be released immediately. If not, I would conclude that he was made into a scapegoat for political purposes. Muslim and Arakanese people have become pawns in the insidious game of politics."
Ko Tun Aye was sacked from his job because he was sent to jail and it badly affects his family's living. It has been over one year since he has been in Buthidaung prison, and his wife Daw Khin San Myint has been struggling to make ends meet while he is in prison.
"I have to struggle for my husband and our children. My youngest son is just four years old.  Our daughter is the oldest child and she is in grade 10. Our other son is the second oldest and he is in grade 7. I have faced a lot of difficulties managing daily lives. So, I want my husband granted amnesty. I'd like to request state leaders to strongly consider him in the next amnesty pardon," Daw Khin San Myint said.
A large number of people have faced trouble following the violence started since 25 October in 2017. Ko Tun Aye's family are among them.
If military personnel, a police captain and two Reuters journalists who exposed the truth of the ghastly murders can be released from incarceration under an amnesty pardon program, why can't a humble, dedicated, selfless teacher and loving family man be granted the same exoneration? Or is justice only granted to privileged people?
His mother Daw Yaing Nu Phyu and his family members are looking forward to the day Ko Tun Aye returns to his devoted family whenever they hear about future presidential amnesty grants for prisoners.