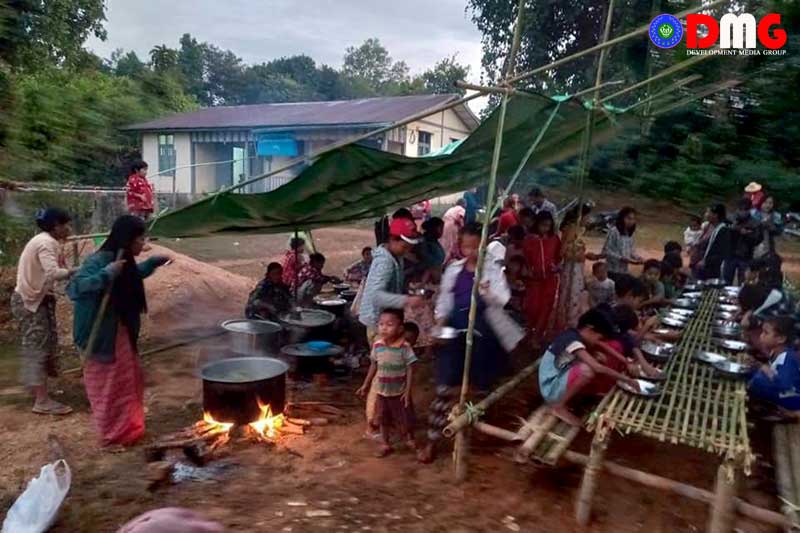 Myat  Swe | DMG
December 30, Sittwe
 
Volunteers who support people displaced by fighting in Arakan State say they are struggling to provide assistance to IDPs in the Dar Latt village tract of Ann Township.
 
Nearly 1,800 people are sheltering in Dar Latt village tract due to recent fighting between the Tatmadaw and the Arakan Army (AA).
 
Ko Myo Lwin, who regularly assists internally displaced persons (IDPs), said he and others had intended to travel to, and provide basic necessities for, IDPs in the village tract on December 29, but they were forced to scrap those plans.
 
"There is no group going to Dar Latt village. We have been trying to go there since yesterday but we can't go there today either. It won't be OK to go by private cars. Clashes have been erupting there very often, and artillery fire happened yesterday," he said.
 
Dar Latt village tract is situated along the shared border of Ann and Myebon townships, about 30 miles from the town of Ann. Clashes between the Tatmadaw and the AA were first reported near Dar Latt village on December 25.
 
Volunteers assisting the IDPs said that the displaced in Dar Latt are facing food shortages because no donor groups have yet been able to provide aid.
 
About 125 IDPs are also sheltering in Ann town, where civil society organizations are providing them with food and other supplies.
 
On December 12, the Rakhine Ethnics Congress (REC) said 98,743 people had been forced to leave their homes in Arakan State because of fighting between the Tatmadaw and the AA.