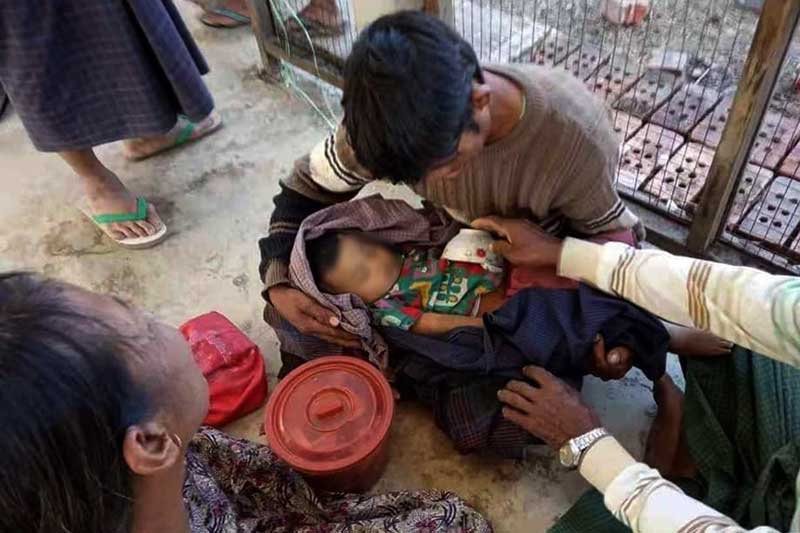 Kyaw Thu Htay | DMG
11 January, Minbya

A 10-month-old boy was reportedly hit and killed by a stray bullet in a village of Minbya Township, Arakan State, over the weekend. Family members of the victim are accusing the Tatmadaw of having fired the shot, but the military has denied those accusations.

The infant's mother, Daw Hla Thein Oo, told DMG the deadly incident took place in Ohn Taw village at about noon on January 11.

The victim has been identified as Mg Phyo Win, whose family originally hails from Nyaung Kan village, also in Minbya Township. The family had fled to Par Taung village, Mrauk-U Township, where they took refuge for a time as Tatmadaw and Arakan Army (AA) troops were engaged in clashes near their home village.

The infant was struck by a bullet near Ohn Taw village as the family was returning by boat to Nyaung Kan village, where the situation on the ground is said to have stabilized.  

"We were coming back to Nyaung Kan village from Par Taung village by boat. Security personnel from the Tatmadaw opened fire on our boat. The bullet penetrated my son's back," Daw Hla Thein Oo said.

DMG contacted Colonel Win Zaw Oo, spokesperson for the Tatmadaw's Western Command, to seek confirmation of the reports. The spokesman rejected Daw Hla Thein Oo's version of events, however, saying the Tatmadaw regiment did not open fire on the boat.

"We neither stopped the boat nor opened fire on it. We have never abducted suspicious people and killed them like the Arakan Army," he added.

Clashes erupted between the Tatmadaw and the Arakan Army (AA) near May Lwan and Ohn Taw villages in Minbya Township at about 6 a.m. on January 11. The Tatmadaw called in airstrikes using two attack helicopters in the battle against the Arakan Army (AA), a local said.

The number of civilians killed or injured in clashes between the Tatmadaw and the Arakan Army in Arakan State over the past year has reportedly increased to more than 100 deaths and about 300 wounded.