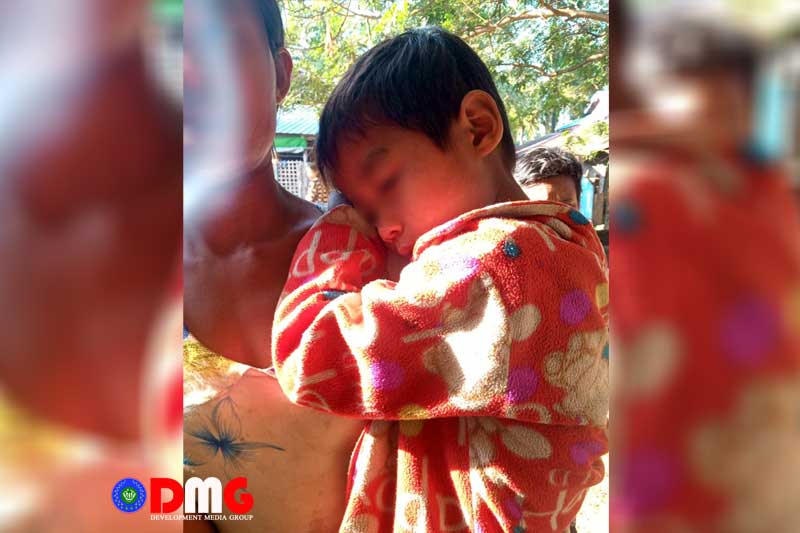 Hnin Nwe | DMG
January 31, Ann
Amid concerns of a measles outbreak at a village in Arakan State's Ann Township, a local administrator told DMG on January 31 that more than 30 children out of over 70 showing signs of illness have recovered after receiving medical treatment.
Officials from the Arakan State and township-level Public Health Departments made a field trip to Thalu Maw village on January 28 to administer the anti-measles vaccine and give pills including vitamin A to the children. Thanks to their efforts, about half of the children have recovered from the virus.  
"After vaccinating them, no child catches fever again. About half of the children recovered from their fevers," said the Thalu Maw village administrator, U Khin Maung Win.
Initially, Public Health Department officials identified the feverish children as "suspected measles patients." Blood samples from nine children were sent to the National Health Laboratory in Yangon on January 29. The results of those tests came back positive for measles.
Dr. Soe Win Paing, assistant director of the Arakan State Public Health Department, told DMG, "Depending on infectious situation in the village, it can be identified as measles."
Dozens of children from Thalu Maw village had been feeling sick since January 20, exhibiting symptoms including fevers, a red rash on their faces and coughing.
Four of them were sent to the Kyaukphyu District hospital and were diagnosed as suspected measles cases. A 15-year-old boy, one of the four sick children, died while receiving medical treatment at the hospital in Kyaukphyu.