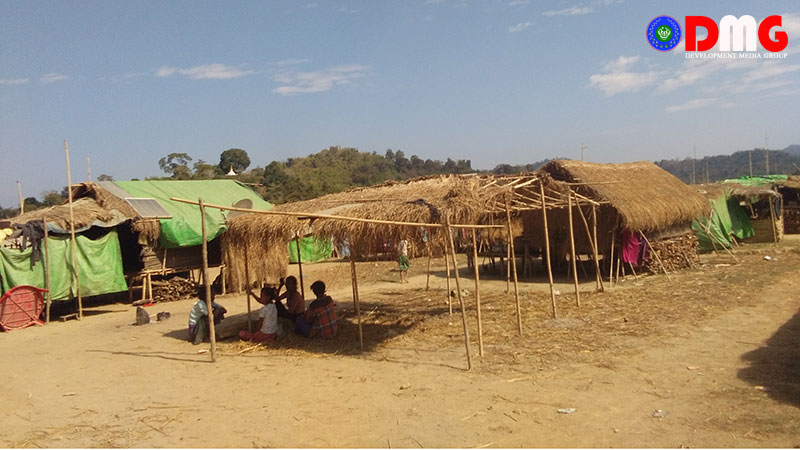 Min Tun | DMG
February 24, Sittwe
 
With fighting between the Tatmadaw and Arakan Army showing no sign of abating and IDP numbers continuing to rise, more shelters are needed, and existing bamboo huts built at some IDP camps last year are in need of repair.
 
U Than Myint, an official from Phar Kwal IDP camp in Ponnagyun Township, Arakan State, said that the huts in the camp were built in April of last year and are now in poor condition. However, camp organizers are struggling to come up with the money to fix them, he added.
 
"We built the houses with bamboo and thatch last year. Now they are falling apart. So we need roofs and walls," he said.
 
He added that there are about 310 people at Phar Kwal IDP camp, where inhabitants also don't have enough food supplies.
 
U Tun Sein, an official from KhwayThay IDP camp in Ponnagyun Township, said that more than 300 people living in the camp need stronger temporary accommodation because they are currently staying in huts built from straw.
 
"We made the roofs and walls with straw. Because the huts are not clean enough, the children are facing health issues," he said.
 
U Shwe Baw Sein from the Rakhine Ethnics Congress said that IDPs are facing difficulties with their accommodation because of financial hardship.
 
"They don't have financial assistance, so how can they build their houses? For example, they need wood, bamboo and thatch. People living in the camp cannot afford that. They are facing difficulties even for food. They will only be able to build houses if they get assistance from the government or nongovernmental organisations," he said.
 
Other camps in Arakan State are also facing the same situation, according to camp officials.
 
Conflict between the Tatmadaw and the Arakan Army has plagued Arakan State for more than a year, forcing more than 100,000 people from their homes.