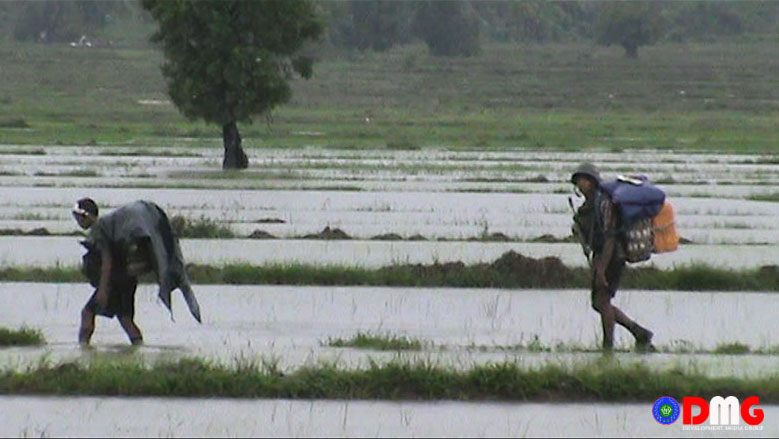 Kyaw Thu Htay | DMG
28 February, Sittwe
A Tatmadaw regiment intercepted a ferryboat commuting between Arakan State's Kyauktaw Township and Paletwa Township in Chin State and arrested six men on February 26, according to family members of the detainees.

Tatmadaw troops stopped the ferry, which was carrying 20 passengers, near Tinma village in Kyauktaw Township, detaining six of those on board, the family members said.

The captives were identified as U Tun Chay, 57, and U Kun Choke, 39, from Shwe Pyi village in Kyauktaw Township; U Aye Thein Maung, 42, from Kyauktaw town; U Aung Kyaw Nyunt, 47, and Ko Aung Than Nu, 22, from Doe Chaungwa village in Paletwa Township; and one other man from Pyaine Taine village.

"They travelled to Paletwa Township in Chin from Kyauktaw Township in Arakan State by ferryboat with the aim of selling commodities. Six men including my husband were arrested by the Tatmadaw near Tinma village. Women and the owner of the ferryboat were freed on the same day," Daw Yin Thar Nu, the wife of detainee U Tun Chay, told DMG.
U Tun Chay was on his way to Namadar village in Paletwa Township to sell goods, Daw Yin Thar Nu said.
"I have yet to receive any contact from my husband," she added. "I dare not go anywhere as there are escalating clashes between the Tatmadaw and Arakan Army in the area. I am worried about them. I want the Tatmadaw to free my husband because he is innocent."

DMG phoned Colonel Win Zaw Oo, a spokesperson for the Tatmadaw's Western Command, regarding the allegations made by the family members of the detainees, but his mobile phone was turned off. The Tatmadaw has not issued any statement regarding the ferryboat incident.

Clashes between the Tatmadaw and Arakan Army have occurred near Tinma village with regularity in recent days.
Four passengers were reportedly injured after boats heading to Kyauktaw Township from Paletwa Township were fired upon near Tinma village on February 27. A Tatmadaw battalion later stopped those boats for inspection near Kyauktaw town and detained two men, according to passengers.