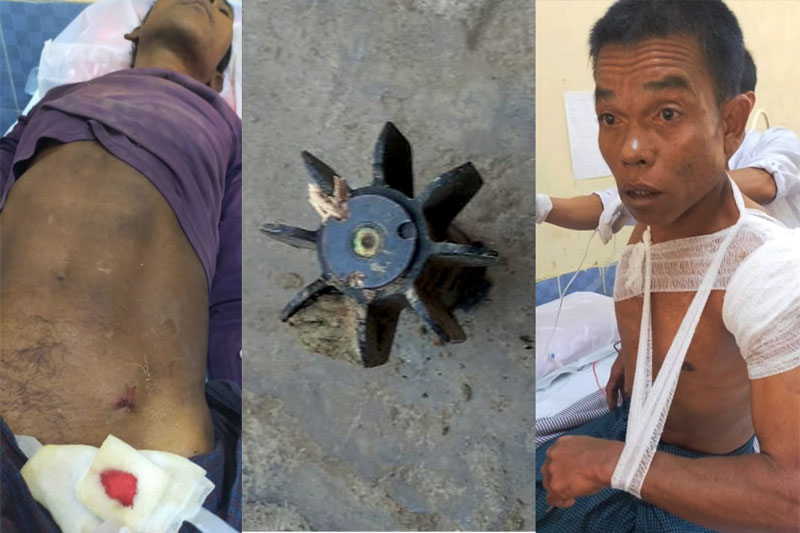 Hnin Nwe | DMG
February 29, Mrauk-U

Three civilians were killed and eight others were injured by artillery and small arms fire as two villages in Mrauk-U Township, Arakan State, were the latest to suffer from spillover of the ongoing conflict between the Tatmadaw and Arakan Army on February 29.
In Bu Ta Lone Muslim village, Mahmud Hari, 18, Mahmud Rahein, 12, and Baw Law, 35, were killed, and six others were injured by munitions amid nearby early morning hostilities between the military and AA troops.
"One was hit while he had been in a watermelon field and another two were hit while they were going to their cattle," said local U Khin Maung Than.
He added that out of the injured, three were taken to Myaung Bway Hospital.
At another settlement close by, U Maung Thein Chay, 58, and Daw San Aye Thein, 53, were injured when an artillery shell landed in Tan Myint Gyi village, which is also located in the Bu Ta Lone village tract of Mrauk-U Township, village administrator U Aung Thar Nyunt told DMG.
"The couple was cooking at their house. The artillery shell hit an areca palm tree first and exploded. Then, they were hit by pieces of shrapnel," he said.
AA spokesperson Khaing Thukha said the ethnic armed group raided a convoy of Tatmadaw vehicles near Myaung Bway village in Mrauk-U Township at about 7 a.m. on February 29.
"As the Myanmar military suffered losses, it fired arbitrarily everywhere with light and heavy weapons, as usual. We've heard that an artillery shell landed on Bu Ta Lone Muslim village, killed four people and injured five others," he said.
Regarding Saturday's civilian bloodshed, DMG phoned Colonel Win Zaw Oo, spokesperson for the military's Western Command, and Brigadier-General Zaw Min Tun from the Tatmadaw True News Information Team, but has yet to receive a response from either media liaison.
The number of civilians killed or injured in clashes between the Tatmadaw and Arakan Army in Arakan State over the past year has surpassed 130 fatalities and 300 wounded, according to the Arakan Students Union (Universities-Yangon).