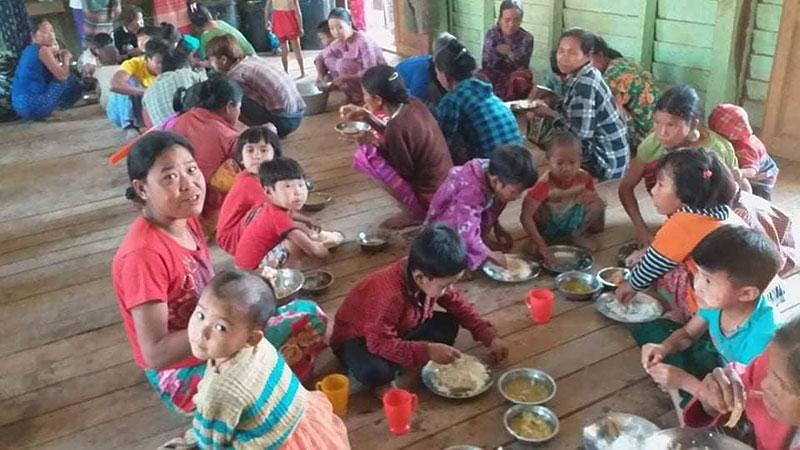 Min Tun | DMG
18 March, Sittwe
Temporary housing materials and healthcare are needed for more than 2,200 internally displaced people (IDPs) who fled their home villages in Chin State's Paletwa Township and have sought refuge in Samee town, said Chin State's Amyotha Hluttaw MP Salai Than Htike.
Currently, the refugees are taking shelter at schools, monasteries and other makeshift accommodation in Samee town, said Salai Than Htike.
"The township [Paletwa] is small. Its population is only around 4,000 people. Now, more than half of its population is sheltering here. As we have no big buildings, we've currently used some places such as religious buildings and villagers' houses for their accommodation. Therefore, mats and other shelter materials are needed at the places where refugees are sheltering," he said.
More than 2,200 locals from Wet Ma, Pyaing Tin, Meik Sa Wa, Ngar Myat Taung, Pyaing Taung and Sar Wa villages in Paletwa Township have been displaced to Samee town since March 16.
"We need medicines mainly," said U Ba Maung, who is helping to care for the refugees. "And we need plastic sheeting to build toilets, water tanks and use as roof and flooring. There is no flooring in some temporary camps and refugees have to sleep on bare ground. Currently, we need these things."
Those assisting the recently arrived refugees say they have asked for help from government officials regarding the IDPs' unmet needs.
Hostilities escalated in Chin State over the weekend, when more than 20 civilians were killed and more were injured when military fighter jets allegedly strafed a handful of villages in Paletwa Township. The broader conflict pitting government forces against the Arakan Army has displaced more than 120,000 people across Arakan State and southwestern Chin State.