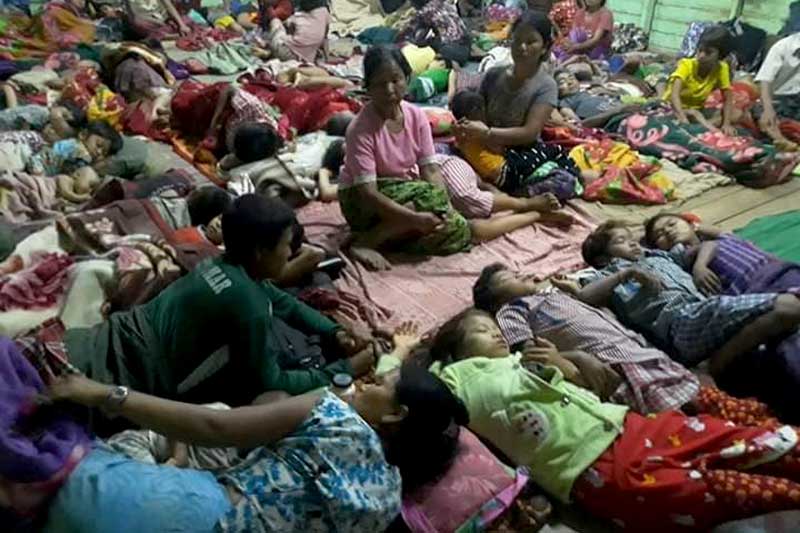 Min Tun | DMG
23 March, Sittwe

More than 3,600 civilians from Chin State's Paletwa Township have been displaced by recent clashes between the Tatmadaw and the Arakan Army (AA), according to U Soe Htet, spokesperson for the Chin State government.

Over 2,400 internally displaced people (IDPs) have sought refuge in Samee town and more than 1,100 arrived at Paletwa town in recent days. U Soe Htet said the state government has struggled to provide relief aid to refugees in Paletwa town due to a lack of security in the area.

"We've faced difficulties with responsible officials being unable to go to these places as there is no security in the region. But some staff from the township, district and state levels were sent to these places," he told DMG.

Paletwa Township residents mainly buy rice and other provisions from Kyauktaw town to the south, in neighboring Arakan State. Compounding the region's hardships, however, land and water routes leading to Paletwa town are currently being blocked due to the fighting.

Although the 2,400-plus refugees who arrived at Samee town are not yet facing food shortages, they are in need of firewood to cook meals, said U Ba Maung, who is assisting the refugees.

"After cutting up a tree for firewood, it cannot be used immediately. So, we have to ask for firewood at the villages. We have to go to the villages situated about 20 miles away by car to ask for firewood. No firewood has been found at the nearby villages, and also refugees have no saws to cut up trees. Thus, they've faced difficulty," he said.

Villagers from Wet Ma, Pyaing Tin, Meiksa Wa, Ngar Myat Taung, Pyaing Taung and Sar Wa villages in Paletwa Township began fleeing to Samee town on March 16. Starting on February 5 and for weeks thereafter, fighting between the Tatmadaw and the AA occurred with regularity surrounding the Meewa strategic hill position in Paletwa Township.