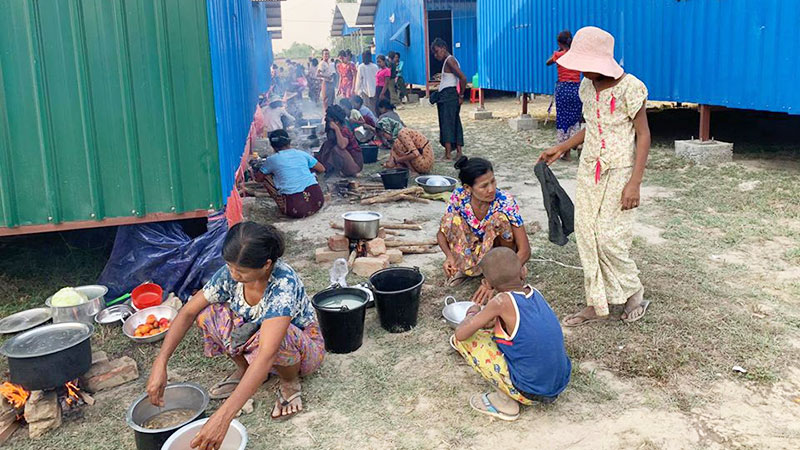 Kyaw Thu Htay | DMG
April 12, Ponnagyun

Internally displaced people (IDPs) who recently arrived at a camp set up by the government in Ponnagyun Township are facing difficulties acquiring basic necessities such as food, clothing and shelter, a camp official said.

The government constructed seven temporary camps in Arakan State's Ponnagyun, Rathedaung, Mrauk-U, Minbya, Buthidaung and Kyauktaw townships more than a year ago, in the early months of an ongoing conflict between the Arakan Army and the Tatmadaw.

However, until recently the camps had remained uninhabited despite rising IDP numbers in the state, with displaced populations choosing other options as the government-built camps were far from their home villages.

But last week IDPs began taking shelter at the Ponnagyun camp for the first time. A camp official said IDPs moved in after receiving approval from the Ponnagyun Township General Administration Department on April 9.

"This camp is opened officially under the approval of the government. We thought that we could have assistance from the state government and we could be OK for the long term. But we haven't received any assistance from the government," said Yay Phyu Kan camp official Ko Tun Kyaw Zan.

There are 500 residents from the conflict-affected villages of Tharzi, Latwei Sar Tike, Phat Kya, Thae Phyu Chaung, Kan Htaung Gyi, Nat Taung, Doe Tan and Kyar Nyo Kan now staying at the camp. They have arranged their own accommodation and have received some food assistance from civil society organisations.
U Aung Than Tin, a lawmaker in the Arakan State legislature representing Ponnagyun Township, said that he has asked the Arakan State government to provide aid to the IDPs.
"We held a meeting at the township administrative office to collect data on the number of IDPs and to submit that data to the state government through the district office," he said.
U Win Myint, spokesperson for the Arakan State administration and minister for municipal affairs, told DMG on April 12 that he did not know that IDPs had arrived at the camp constructed by the government.
The Rakhine Ethnics Congress (REC) stated on March 31 that fighting between the Tatmadaw and the Arakan Army has forced more than 157,000 people from their homes in Arakan State.