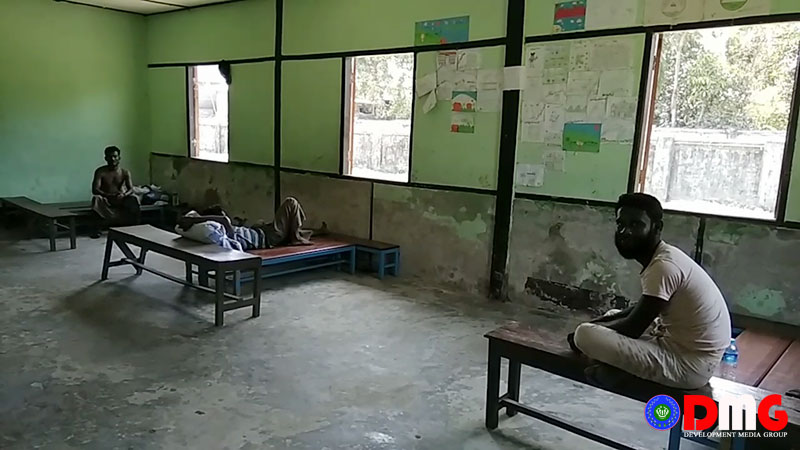 Cha Lu Aung | DMG
18 April, Maungdaw

Three motorboat drivers who returned to Arakan State after transporting goods from the Maungdaw border trade center to Bangladesh are undergoing a 21-day facility quarantine at Basic Education High School No. 2 in Maungdaw.
One of the boatmen is from the town of Maungdaw's West Myoma Ward and the two others hail from Ywar Thit Kay village.
The quarantine is part of recently issued protocols that seek to curb the transmission and spread of COVID-19 in Myanmar.
Health officials were unable to quarantine seven individuals from motorboats returning to Arakan State on April 13 and 14 after transporting goods to Bangladesh; the three boat drivers who returned on April 15 are the first to be subject to the updated quarantine procedures, said a responsible person from the Maungdaw Township Health Department.
"It wasn't possible to quarantine seven boat drivers from two motor boats at a facility for 21 days. However, three boat drivers who are from a motorboat and recently returned will be under quarantine at B.E.H.S (2) for 21 days for the first time," said the responsible person.
The quarantined boatmen do not have fever or cough, said Dr. Nu Kaythi San, deputy head of the Maungdaw District Public Health Department.
The Arakan State government is covering the costs associated with keeping the three men under 21-day facility quarantine, said U Soe Aung, the Maungdaw District General Administrator.
"The Arakan State government provides K6,000 per [individual under facility quarantine] for a day," he said.
In Maungdaw town, the Hla Phoe Khaung temporary camp, B.E.H.S. (2) and a sporting grounds are designated as facility quarantine centres.
There were a total of 46 people quarantined in Maungdaw as of April 18, with 43 at Hla Phoe Khaung camp and three at B.E.H.S (2), according to the Maungdaw Township Health Department.
Statewide there are 897 COVID-19 suspects under facility quarantine, 2,172 under home quarantine and 34 under hospital quarantine in Arakan State, the Arakan State government recently announced.
As of April 18, there were 98 confirmed COVID-19 cases in Myanmar and five deaths, according to the Ministry of Health and Sports.