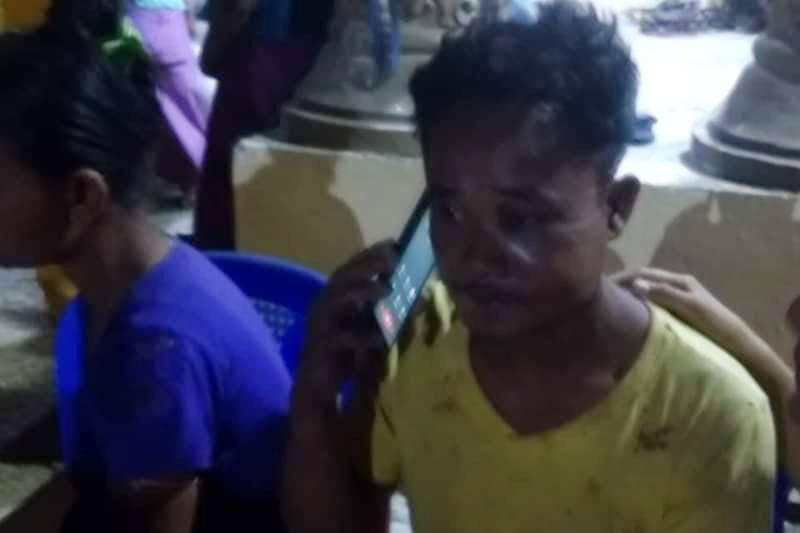 Win Nyunt | DMG
April 21, Ponnagyun

Thirty-three out of 38 people recently arrested by the Tatmadaw in Ponnagyun Township, Arakan State, were released on April 20, according to local residents. The administrator of Kyauk Seik village, where the arrests were made, was among those freed.

Tatmadaw troops entered Kyauk Seik village on the morning of April 19 and arrested 38 villagers, according to the released village administrator U Aye Maung, who spoke to DMG.

"They put hoods over our heads during the interrogation. They asked us if we had contact with the AA [Arakan Army] terrorists. They beat us on our faces and backs. We told them we had nothing to do with the AA. They still haven't released the remaining five," the administrator said.

U Khin Maung Latt, who represents Ponnagyun Township in Parliament's Upper House, said he was monitoring the situation and trying to help the five people still held in detention.

"They said that the five still detained have been transferred over to the police in accordance with procedure. It isn't straightforward — if they still haven't been released within 10 days, we will submit a letter," U Khin Maung Latt said.

DMG attempted to contact the Tatmadaw True News Information Team's Brigadier-General Zaw Min Tun concerning the arrests of the Kyauk Seik villagers, but he was not unavailable to take the call.

In more peaceful times, Kyauk Seik village was home to over 3,000 people and nearly 250 households, but many of its inhabitants have fled to other villages nearby as well as to Ponnagyun town, according to local residents.

Shelling of Kyauk Seik village on April 13 left eight civilians dead and 13 injured. Residents have accused the Tatmadaw of shelling the village.

However, the military has asserted that posts on social media accusing the Tatmadaw of shelling Kyauk Seik are intended only to mislead and diminish popular perceptions of the security forces.