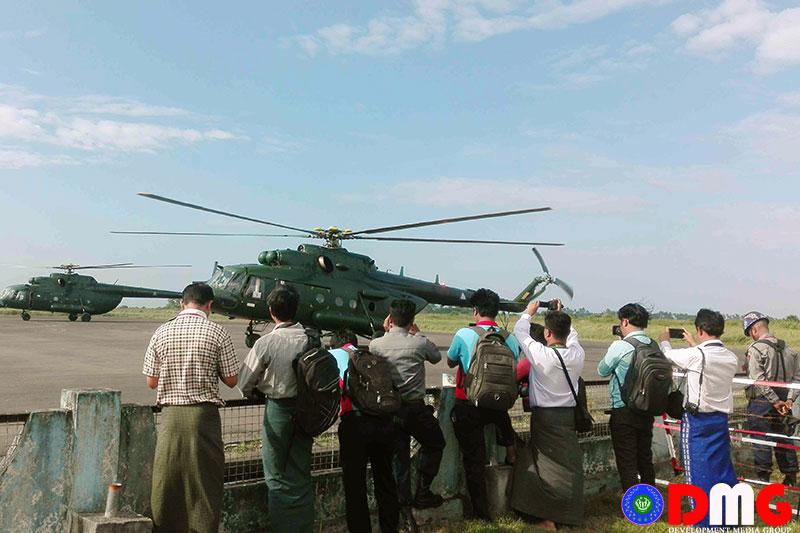 Su Mon | DMG
4 May, Sittwe

An independent journalists' group comprising more than 180 reporters throughout Myanmar has called on President U Win Myint to address some of the challenges faced by the nation's press corps.
Their demands, issued on May 3, include an immediate end to the oppression of journalists and to violations of free expression in Myanmar.
They also demanded the unconditional withdrawal of all charges brought under various laws against journalists who, they argue, should have been dealt with under the News Media Law; the immediate lifting of bans on some ethnic media outlets; and the immediate restoration of internet access in Arakan and Chin states.
Since the National League for Democracy government came to power, a total of 1,051 people have been charged in 539 separate cases for exercising their right to speak out, according to the free expression advocacy group Athan. Sixty-seven were journalists, with 34 cases opened under the Telecommunications Law, said Maung Saungkha, Athan's executive director.
"More than 50% of charges against journalists are opened under the Telecommunications Law. But the Counter-Terrorism Law is being used to charge journalists since April. There are eight cases now charged under the Counter-Terrorism Law," he said.
The Development Media Group is among those facing legal action in recent years: Special Branch police filed a lawsuit against DMG Editor-in-Chief Aung Marm Oo under Section 17(2) of Unlawful Association Law on May 1, 2019.
Meanwhile the editors-in-chief of Khit Thit Media and Narinjara News, U Thar Lun Zaung Htet and U Khaing Mrat Kyaw, respectively, as well as a reporter for RFA have also been charged this year under Sections 50(a) and 52(a) of the Counter-Terrorism Law.
Ko Wunna Khwar Nyo, an Arakan State-based reporter for DVB (Democratic Voice of Burma), said the government also needs to try to ensure free information access for journalists.
Mobile operators in Myanmar have blocked some media websites including DMG, Narinjara, Khit Thit and VOM at the instruction of the Ministry of Transport and Communications.
According to an index compiled annually by Reporters Without Borders (RSF), Myanmar's press freedom has fallen three consecutive years, ranking the country 139 out of 180 globally in 2020.