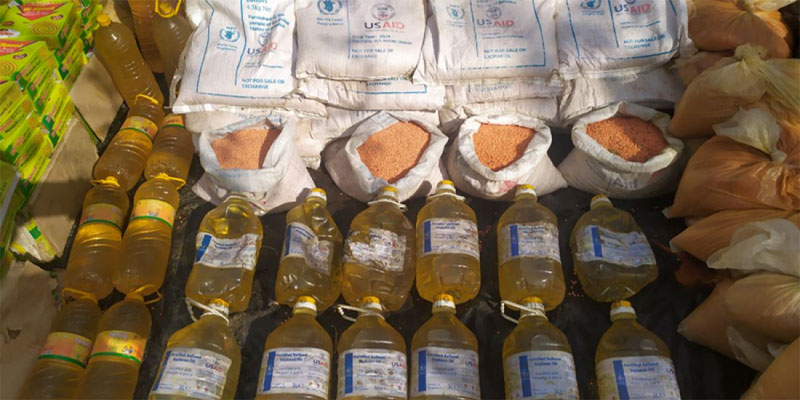 Myo Thiri Kyaw | DMG
7 May, Maungdaw

Myanmar security forces conducting operations along the border with Bangladesh found World Food Programme-marked food packages hidden by the Arakan Rohingya Salvation Army (ARSA) in a bush near the boundary line, the Office of the Commander-in-Chief said on May 6.
Sixteen bags covered with a black tarp were found in shrubbery 3,000 meters west of Khamaungseik village in Maungdaw Township, it said.
Inside the bags were 48 WFP-marked packages of lentil, bottles of water and cooking oil, salt, and other foodstuffs, according to the military chief.
The Tatmadaw has reported an uptick in run-ins with ARSA in Arakan State in recent weeks. On May 2, a police force carrying out security operations along the border was attacked by members of ARSA from the Bangladesh side near Border Post No. 41 (BP-41), injuring two policemen, the Tatmadaw said in a statement released on May 6.
On April 29, two men who allegedly had links to ARSA were shot dead in a botched arrest attempt about 1,500 meters north of BP-41, and one homemade mine and accessories as well as illicit drugs were seized, the statement said. The Tatmadaw also said it found food and other items on April 8 that it said were hidden by ARSA in two huts about 2,500 meters west of Khamaungseik village.