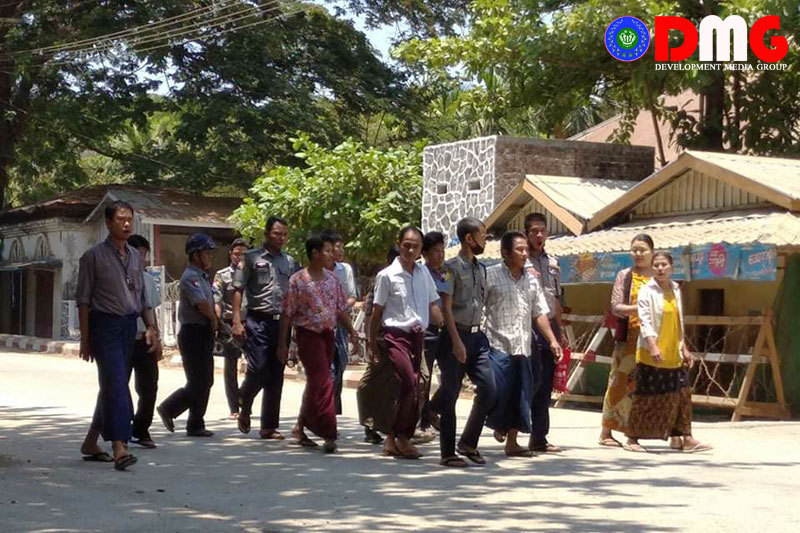 Khin Tharaphy Oo | DMG
8 May, Sittwe
 
Police have re-arrested five men from Taungup Township who were originally detained for alleged links to the Arakan Army, after releasing them briefly on May 7 due to lack of evidence. They were taken back into custody the same day, according to family members.
 
Ko Pyone Cho, Ko Than Naing, Ko Aung Htoo, Ko Maung Myint Aung and Ko Hla Phyu were first charged under the Counter-Terrorism Law after the Tatmadaw interrogated and subsequently arrested them at the Lamu police station in Taungup Township on April 5.
 
"They were due to appear at the court in Taungup yesterday," a family member of Ko Than Naing told DMG on Friday. "The Taungup Township Court rejected the case because their case was not substantiated as a case. So, the police asked for an additional remand period for further investigation and the judge gave four days."

Lacking sufficient charging evidence, the township court released them on May 7, but police arrested them again on suspicion of involvement in a bomb blast in Maei town, said lawyer U Tin Nyo from Taungup Township.

"The police remanded for two weeks to charge them under the Counter-Terrorism Law. But they were released, as there was no evidence to charge them. One hour later, they were remanded into custody again," he added.

The five men's extended remand period will expire on May 11, at which point a determination will be made as to whether the original case will move forward or not.
All five men are from Sar Pyin village in Taungup Township.

With conflict between the Tatmadaw and the Arakan Army well into its second year, arrests of men alleged to have ties to the ethnic armed group continue to be a frequent occurrence in townships across Arakan State.