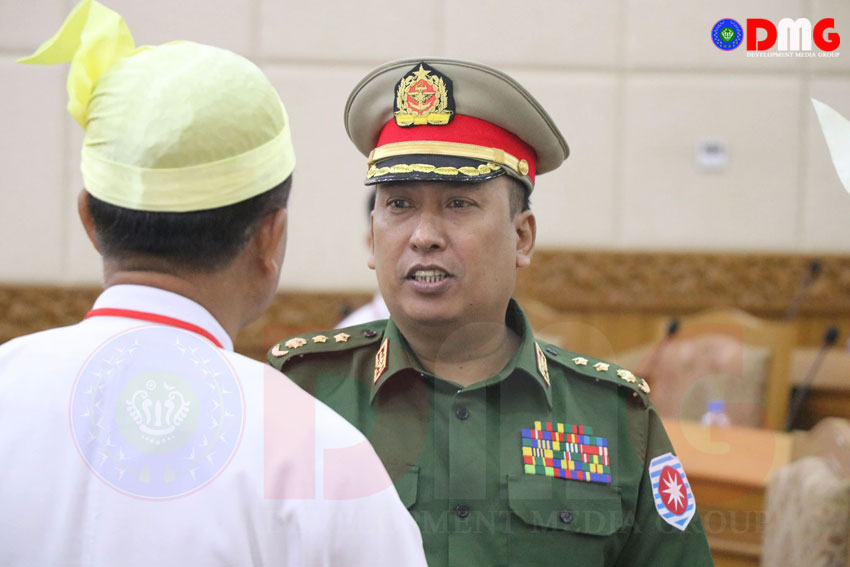 Khin Tharaphy Oo | DMG
23 May, Sittwe 
The Arakan State government has been arranging to facilitate the transportation of civilians who are seriously wounded in war, State Minister for Security and Border Affairs Colonel Min Than said on May 21. 
Colonel Min Than said the International Committee of the Red Cross (ICRC) or other organisations of neutral standing in Arakan State's conflict would be able to transport injured civilians smoothly and quickly if the regional command granted permission based on an application form. That form would require the name of the patient to be transported, his or her medical condition, the license plate number of the vehicle carrying the patient, the route to be taken, and the name of the relevant ward/village administrator. 
The Arakan State Hluttaw on May 21 passed a proposal calling for free movement of emergency patients in need of healthcare as a humanitarian aid standard for civilians injured during hostilities. 
Arakan State lawmaker U Tun Thar Sein from Mrauk-U Township, who put forward the proposal, said he submitted it to allow humanitarian actors with proven apolitical track records, such as ICRC, to better assist civilians caught up in the conflict. 
"The proposal is submitted to address the real situation in our state," said U Hla Thein Aung, a supporter and state MP from Minbya Township. 
He cited instances in which injured civilians variously from Pan Myaung, Kalamataung and Pharpyo villages in Minbya Township were not allowed to be transported for medical treatment, in breach of international human rights norms. 
On April 13, eight civilians were killed and 13 others injured when artillery shells landed on Kyaukseik village in Ponnagyun Township, Arakan State. Two of the fatalities were due to delays at a security checkpoint where those transporting the wounded were held up for questioning, a member of a charity group that assisted the injured told DMG last month. 
"Their situation was still good," he said of the early prognosis of the two civilians who died on the way to Sittwe General Hospital. "But it took about an hour checking at the gate. They died unnecessarily due to the lengthy check."