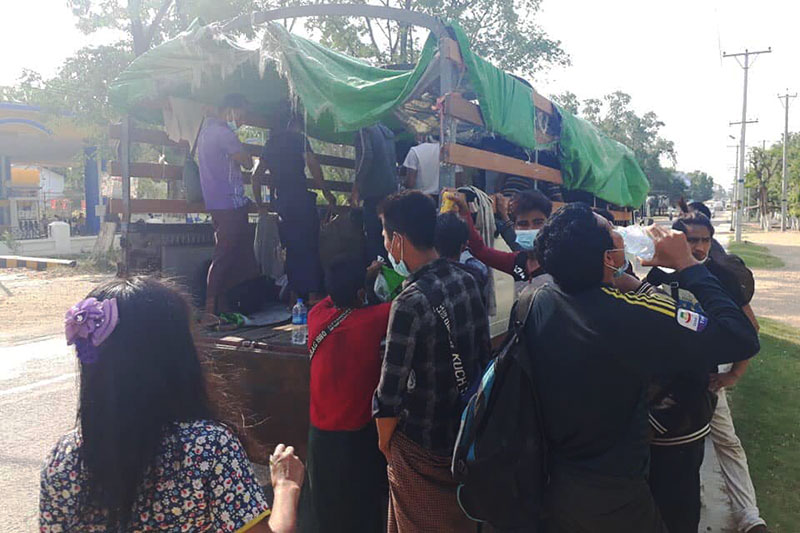 Khin Tharaphy Oo | DMG
25 May, Sittwe

The number of Myanmar nationals returning from China to their homes in Arakan State amid the coronavirus pandemic surpassed 3,500 on May 25, according to the Arakan State Department of Disaster Management.
The returnees crossed the border at Mongla and Muse townships in Shan State, where they were then kept under quarantine for 21 days at facilities there, said U Ye Min Oo, head of the department in Arakan State.
"They can opt for one of two ways to return home after they arrive in Myanmar. They can go to their home in Arakan State by their own arrangements. Under the [alternative] government arrangement, they have to go to Mandalay. That would cost K15,000 or K20,000. Then, the government sends them to Arakan State," he said.
A majority of the returnees are from Ponnagyun and Mrauk-U townships. The returnees said they were taken to Arakan State by trucks and faced hardships along the way.
"I cannot arrange transportation for them. So, I am so sorry for their inconvenience amid bad weather. They should not be taken by trucks," U Ye Min Oo said.
The Department said it was working with civil society organisations to make it easier for returnees to obtain basics like food on their journey west from Shan State to Arakan.
A May 25 upload to the Rakhine Breaking News Page, which reports on the activities of the state government, said a total of 6,493 people were kept under quarantine in Arakan State.