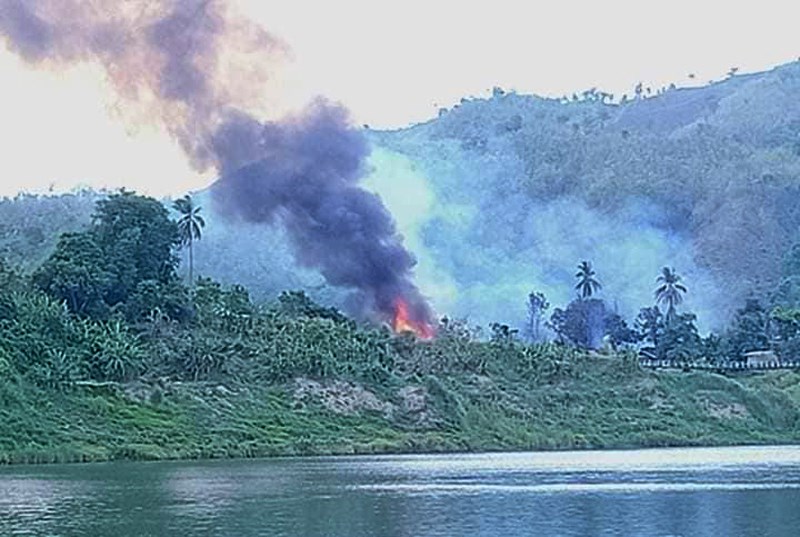 Myo Thiri Kyaw | DMG
27 May, Paletwa 
With dozens of houses burned down at Meeletwa (lower) village in Chin State's Paletwa Township this week, former residents say they will now struggle to return home even as pressure mounts for some to vacate the schools that they have been displaced to. 
U Hnin Wine, one of the internally displaced people (IDPs) sheltering at a school in Paletwa town, said he did not know where he would live in the coming rainy season after his house was destroyed by fire on May 26. 
"I do not know where I should go when the school reopens. I lost my home and paddy. I want to cry when I think about my future," he said. 
IDPs living in schools are likely to be forced to find other accommodation in the coming weeks as classes are expected to resume in July. 
About 60 houses are believed to have been destroyed by fire at the village in Paletwa Township, but an exact total is not yet known because military personnel have prohibited its former residents from visiting, they said. 
U Shwe Kyaw, a 100-household head from Meeletwa (lower) village, said he did not know why the houses went up in flames in the absence of any armed hostilities nearby on May 26. 
A list of destroyed houses and other properties will be compiled for submission to the township administrator, he said. 
U Soe Htet, the Chin State government's minister for Municipal Affairs, said the list would be forwarded to the union government for rebuilding or other measures of recompense. 
"The union government can do the resettlement because the damage is significant," U Soe Htet said. 
More than 500 villagers from Meeletwa (lower) fled to Paletwa town due to airstrikes in a clash near the village on March 21. The village of over 100 households was home primarily to ethnic Khumi people before it was emptied of its inhabitants.