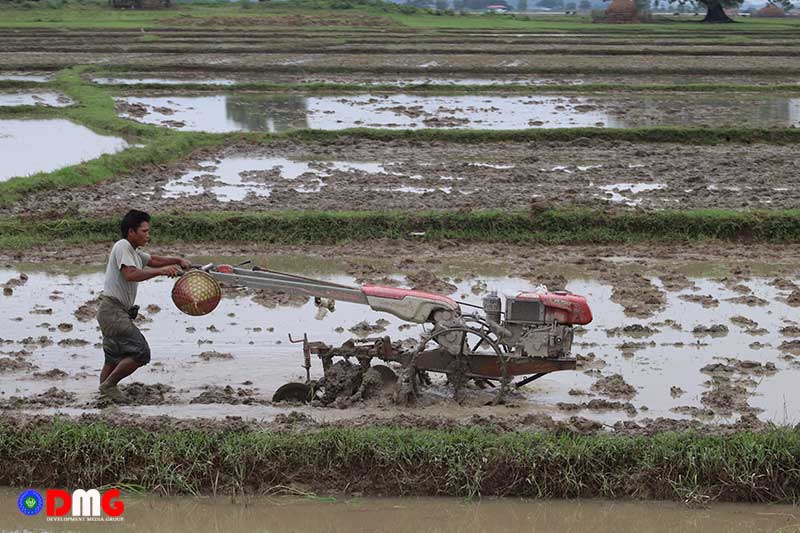 Khin Tharaphy Oo | DMG
29 May, Sittwe
 
Many farmers from conflict-wracked northern Arakan State are unable to repay agricultural loans disbursed for the 2019 monsoon paddy growing season, said U Aye Thein, manager of the Myanmar Agricultural Development Bank's Arakan State branch.

Only a fraction of farmers have paid off their monsoon paddy loan for 2019, with war-affected parts of Sittwe and Mrauk-U districts seeing the highest delinquency rates, U Aye Thein told DMG.

"The loans given to farmers from southern townships are repaid. However, small numbers of farmers from Ponnagyun, Rathedaung, Pauktaw, Kyauktaw and Myebon townships paid off the loans," he said.

A total of K79.85 billion ($55 million) in agricultural loans were disbursed in Arakan State in 2019, but repayments through May 27 of this year totaled just K11.10 billion, according to the MADB in Arakan State.

"Only 14 percent of the loans have been repaid so far," said U Aye Thein.

According to the MADB's Arakan State data, the bank had disbursed about K1.2 billion in new loans from May 15-27 for the current monsoon paddy season, with the funds going to 1,649 farmers from 10 townships who had settled their debt from the previous year.

Farmers normally have to repay their loans by April 15, but this year the deadline for repayment was pushed back to May 30.

The bank annually disburses agricultural loans on the basis of K150,000 per acre of monsoon paddy, and more than 100,000 farmers take out the loans every year in Arakan State.

With normal loan terms requiring that a previous year's debt be repaid before another agricultural loan is disbursed, farmers from northern Arakan State sought an exemption in March, given market conditions and the ongoing conflict between the Tatmadaw and Arakan Army.

"The yield of paddy is lower because we cannot harvest in time. Another problem is that we cannot go anywhere with paddy due to the armed conflict here. We cannot sell our paddy. So, farmers cannot repay the loan," farmer U Maung Kyaw Mya from Apaukwa village in Kyauktaw Township told DMG.

The amount of farmland on which farmers could not cultivate or harvest crops in 2019 was about 50,000 acres, according to the Arakan State Farmers' Union.