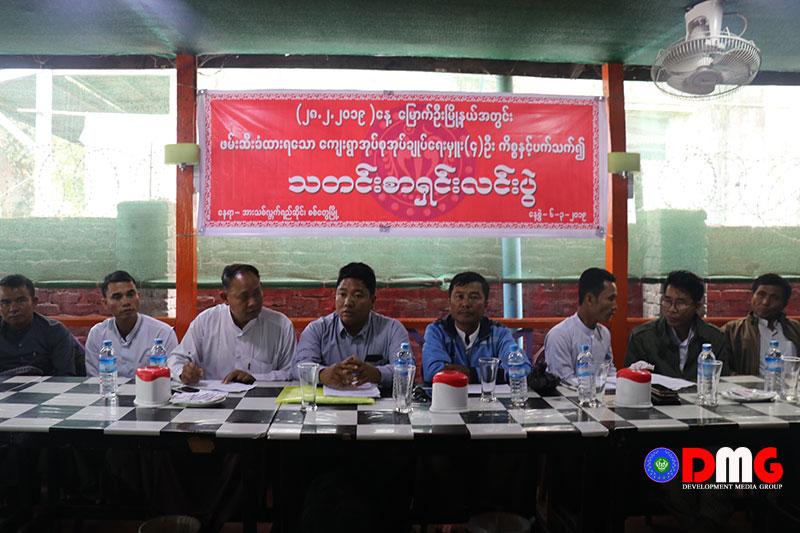 Aung Htein | DMG
4 June, Myebon 
Village administrators are concerned for their safety and well-being after an administrator from Myebon town's North Ward, in Arakan State, was taken from his home by a combined squad of Tatmadaw troops and policemen. 
Three policemen and four military personnel arrived at the house of the ward administrator, identified as U Aung Than, on motorbikes at about 9:30 p.m. on June 3 while he was sleeping. They took the ward administrator in for questioning, his son Ko Aung Aung Naing told DMG. 
"They entered our house by motorbikes and woke my father up. They asked my father whether he knows another administrator from downtown Myebon or not. My father replied 'yes'. They then told my father to bring his National Registration Card and follow them for a moment," he said. 
U Aung Than is currently being interrogated by members of the Military Security Affairs (Sa Ya Pha), said U Pe Than, the Lower House lawmaker for Myebon constituency, who added that he did not know whether the military intelligence agency would press charges against the ward administrator or not. 
"He is reportedly being questioned at the office of Military Security Affairs in Myebon. The Tatmadaw has already opened a lawsuit against two village administrators. I don't know exactly whether the detainee will be sued or not," the MP said. 
The administrator of Angu Ywar Thit village, U Maung Zaw, and the administrator of Ywar Thit Kay village, U Kyaw Myint, were arrested by the Tatmadaw and police on May 30 and were charged under sections 50(j) and 52(b) of the Counter-Terrorism Law. 
Family members of the ward administrator are worried for his safety, as he has been held at the township office of Military Security Affairs for one week. 
DMG contacted Myebon Township administrator U Zarni Kyaw for comment on the arrest of the ward administrator, but he could not be reached. 
DMG also phoned the head of the Myebon Township police station, Police Captain Aung Than Zaw, but a person who answered the phone replied that he was at a meeting. 
DMG was unable to verify the reason for the arrest and interrogation of the ward administrator. 
Some ward and village administrators in Myebon Township reportedly fled their homes for fear of being questioned, arrested and/or taken to court by the Tatmadaw.