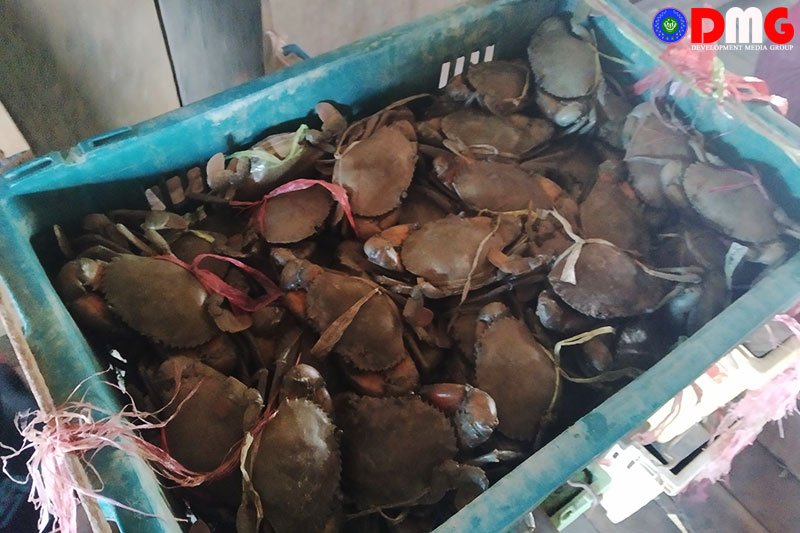 Kyaw Thu Htay | DMG
24 June, Sittwe

Crab exports from Arakan State are rebounding, albeit tepidly, after they were suspended for months due to the coronavirus pandemic, according to local players in the crabbing industry.

Crabs from coastal Arakan State are primarily shipped to China, but their export to Myanmar's northern neighbour and elsewhere were suspended from January 25 amid the COVID-19 outbreak. Chinese buyers began importing Myanmar crabs again as of May 31, but prices are reportedly much lower than pre-coronavirus rates.

As with many industries in the coronavirus era, the return to something resembling normal business has been accompanied by difficulties.

The price slump is paired with a fear of what the future holds, according to Ko Zaw Tun, a clerk from the XJ crab wholesale centre in the Arakan State capital Sittwe.

"We are worried about possible interruption of crab exports from Myanmar as a result of a second wave of COVID-19 infections in China," he explained.

A kilogramme of crab fetched around K6,000 (US$4.14) on the Chinese market prior to the coronavirus outbreak. Now, the price per kilogramme has dropped to about K3,000, Ko Zaw Tun said.

With the disruption to exports earlier this year, crabbing entrepreneurs were forced to adapt and, in some cases, lay off workers in order for their businesses to survive.

With prices as much as halved currently, the industry is not out of the woods just yet.

"We faced financial difficulties after becoming jobless due to the closure of crab wholesale centres. Now we have resumed crab exports to China, but face financial losses because the price of crabs has declined significantly," said Ko Too Too, a crab broker from Konetan Kyein Chaung village in Sittwe Township.

There are seven crab wholesale centres near the Ah Myint Kyun Bridge in Sittwe Township. In addition, many people run crab trading businesses in Pauktaw, Ponnagyun and Maungdaw townships.