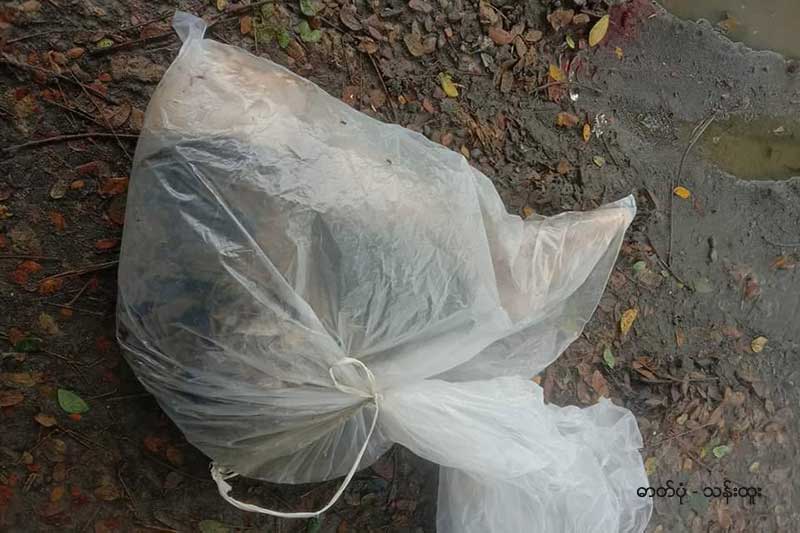 Hnin Nwe | DMG
7 July, Kyauktaw

Parts of a male corpse were found on the bank of the Kaladan River near Kisapanadi Bridge in Kyauktaw Township, Arakan State, at about 8 a.m. on July 7, according to locals.

Ko Tun Khin, a Kyauktaw resident, said he saw part of a dismembered right leg that was found along the riverbank.

Family members of a 31-year-old man from Kyauktaw town's Pikethae ward have identified the body parts found as being his.

U Kyaw Hlaing had earned a living collecting glass bottles and was arrested by a military contingent while he was out collecting bottles on July 2, the presumed victim's wife Daw Su Chay told DMG.

"He wore trousers lent by his younger brother-in-law on the day he was arrested. He tied his leg with a rubber band to relieve a cramp. I can confirm that the dead body is my husband as the trouser is identical as well as the rubber band was tied to his right calf," said Daw Su Chay.

"I feel very sorry as he was arrested without having done anything wrong. ... I'm angry because he was killed without [committing] any offence," she added.

Ko Tun Khin, the Kyauktaw resident, said: "We feel like our residents are on the frontline of a battlefield. We feel unsafe, even fearing for our lives. I worry that the residents may face similar incidents."

DMG attempted to contact Brigadier-General Zaw Min Tun and Major-General Tun Tun Nyi of the Tatmadaw True News Information Team seeking comment on the arrest of U Kyaw Hlaing by the military, but they could not be reached.