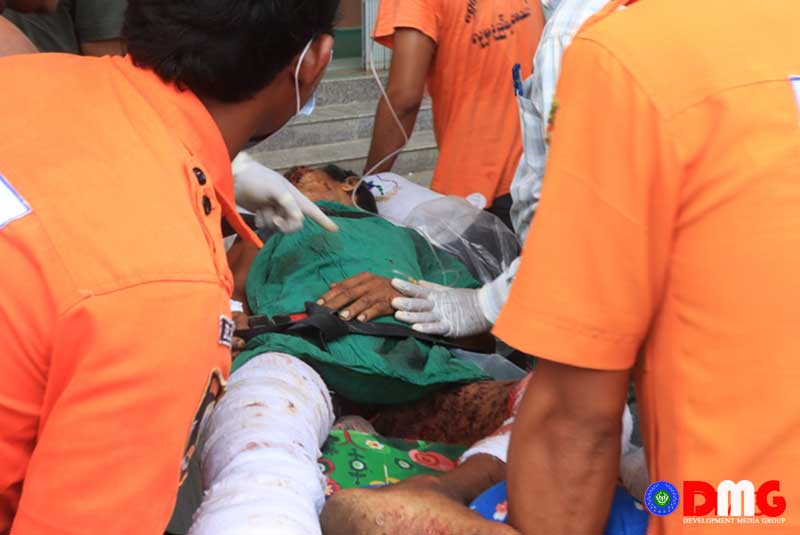 Aung Htein | DMG
9 July, Rathedaung

A 66-year-old man from Nga Tauk Tu Chay village in Rathedaung Township, Arakan State, who was severely injured when he stepped on a landmine on July 8, has died at Sittwe Hospital.
U Maung Kyaw Than died at about 4 a.m. on July 9 of severe blood loss and shock after delays in receiving medical treatment, said Ko Bekka, who helped him.
"The victim's condition was considered life-threatening. So everything needed to be ready when the victim arrived at the hospital. Medical staff delayed in providing healthcare services to the victim. We didn't achieve our goal of saving his life," he added.
U Maung Kyaw Than reportedly encountered the landmine while herding cattle in pasturelands north of Nga Tauk Tu Chay village just after noon on July 8.
The body of the victim was sent to the Sittwe Hospital mortuary and is due to be cremated in Rathedaung Township.
"He [the victim] is my father-in-law and we worked together for a living. I feel like I have lost one of my arms," said U Hla Sein Tun, the victim's son-in-law.
Local people in Arakan State are concerned for their safety in the wake of U Maung Kyaw Than's death.
Landmines are a growing threat to life and limb in Arakan State, where they are reportedly used by both sides in the long-running conflict between the Tatmadaw and the Arakan Army.