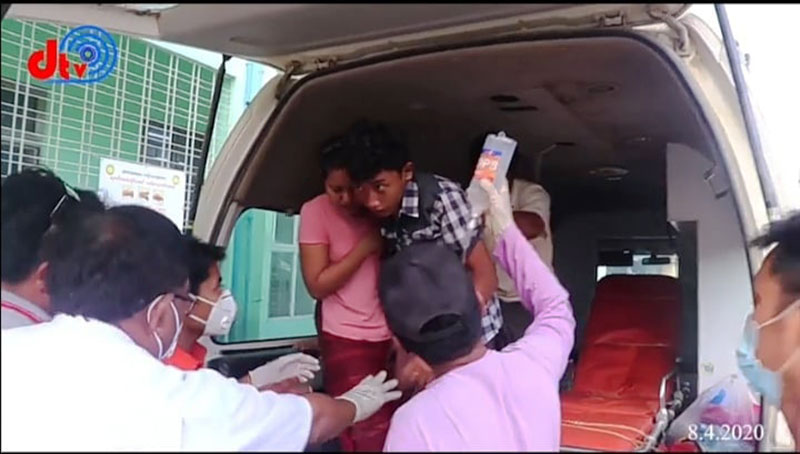 Kyaw Thu Htay |DMG
10 July, Sittwe

Armed conflict in townships across Arakan State, combined with poor transportation links and restrictions on travel in the affected areas, are causing difficulties accessing healthcare services, with at times life-and-death consequences, according to healthcare workers.

Transferring patients from township hospitals to receive more advanced care in the Arakan State capital Sittwe often faces delays and transportation difficulties, said Dr. Nay Win Tun, a medical officer at Minbya Hospital.

"If fighting happens on the way to the state hospital, we can't easily send the patients referred from the township hospital. Sometimes, health staff members assigned to conflict zones move to urban areas. So, healthcare services are slightly weak there," he added.

Also causing problems, local authorities have sometimes declared curfews in conflict-affected townships, according to Dr. Tin Myint Oo, a medical officer at Rathedaung Township Hospital. He said in some cases, lives were "unnecessarily" lost by the imposition of curfew orders that hampered timely hospital transfers for patients in emergency circumstances.

"If patients arrive at the [initial receiving] hospital in the evening, we can't go anywhere to take care of them till the next morning," with their lives sometimes on the line, he explained. "There have been patients coming from rural areas who weren't able to reach the hospital in time, and lost their lives on the way."

An immunisation programme for rural areas has also been delayed amid difficulties staffing the rural healthcare facilities that are often on the frontlines of conflict, said Ko Maung Maung Than, a health officer at the Tinnyo health centre in Mrauk-U Township.

"In the past, health staff members residing in the villages provided healthcare services to the people at any time, so local populations had the chance to receive medical treatment in time," said U Wai Hla Aung, an in-charge of the Tinnyo IDP camp in Mrauk-U Township. "Now, because healthcare workers can't reside in the assigned areas, local people miss the chance to receive emergency treatment."

Fighting between the Tatmadaw and Arakan Army in Arakan State and Chin State's Paletwa Township in March and April claimed the lives of 107 people, according to a May 5 press release from the Arakan Students Union (Universities-Yangon) and the Arakan State Students Union.