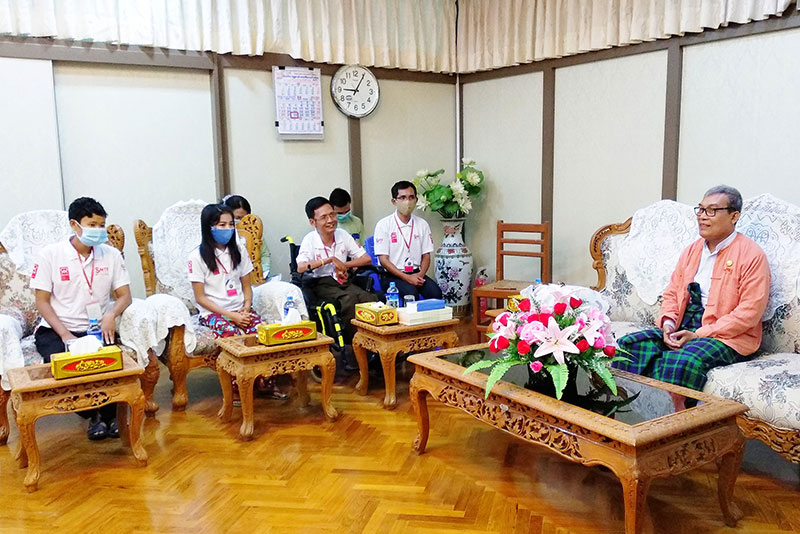 Myat Swe | DMG
29 July, Sittwe

Representatives from the Shwe Minn Tha Foundation (Myanmar) held a discussion with members of the Arakan State government cabinet about conducting mine risk education programmes in townships plagued by conflict in the state, according to an official from the foundation.

The state government gave permission to the Shwe Minn Tha Foundation to provide mine risk education in Arakan State during talks on July 28, said U Myat Thu Win, the chairman of the foundation, which advocates for people with disabilities.

He told DMG that mine risk education is a necessity in Arakan State, where civilian casualties caused by landmines and other war-adjacent violence have been on the rise. Some victims of the conflict's collateral damage become people with disabilities, he noted.

"In my opinion, I feel very sorry for some people who encountered difficulties due to the risks created by human beings. We still have a lot to do about dissemination of mine risk education in Arakan State," U Myat Thu Win added.

Local people have expressed concerns over landmine perils in nine Arakan State townships where hostilities between the military and Arakan Army are ongoing.

"I know that people in nine townships in Arakan State are concerned for their safety over mine risk. I don't want residents in Arakan State to be landmine victims. If we are human, we must give a helping hand to landmine victims on humanitarian grounds," he said.

The Shwe Minn Tha Foundation is scheduled to provide training courses for residents to share knowledge about the dangers of landmines in some Arakan State townships, but it is not clear when that programming will begin.

The Shwe Minn Tha Foundation also donated food supplies and medical equipment for COVID-19 prevention to some villages and people with disabilities who are sheltering at a displacement camp (IDPs) in Sittwe.

Clashes between the military and the Arakan Army in western Myanmar have flared with regularity since late 2018, killing or injuring hundreds of civilians.