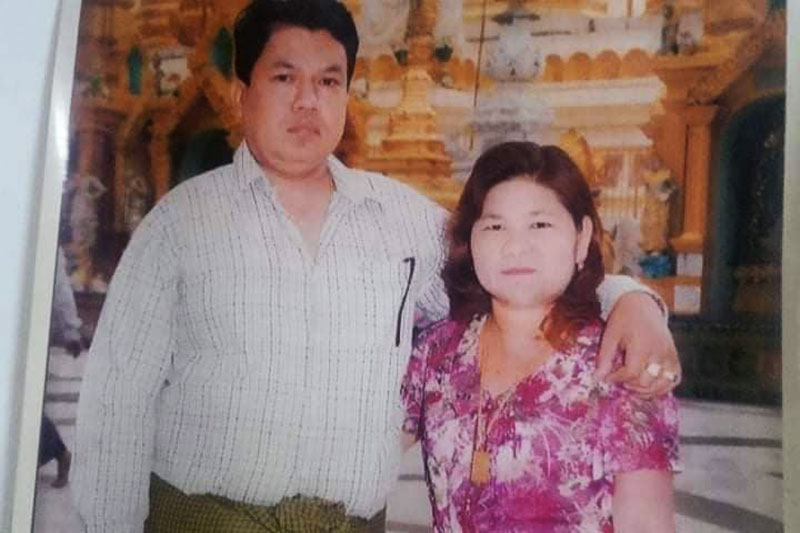 Myo Thiri Kyaw | DMG
1 August, Yangon
An Arakanese couple from Buthidaung Township, Arakan State, were found dead and presumed murdered inside their apartment in Ward-7 of Yangon's South Okkalapa Township on July 31.
The two 48-year-old victims were identified as U Tun Hlaing and his wife, Daw Hla Hla. They moved to Yangon from Buthidaung two years ago due to the wife's health condition, said Daw Aye Ma Phyu, the elder sister of U Tun Hlaing.
The pair once operated a jewelry shop named Rakha Tawwin and a goldsmithery in Buthidaung, but were living on interest from bank savings accounts in their later years, according to family members of the victims.
"I phoned them five days ago because I had recurring nightmares about them but I couldn't get through; their mobile phones were powered off," said Daw Aye Ma Phyu. "I informed the police station and asked that they rush to their room. The police said yesterday that the couple was found dead in their apartment."
According to police officials, U Tun Hlaing was stabbed multiple times in the abdomen, while his wife was found dead with her face to the floor.
"Jewellery in the safe was stolen. In addition, my younger brother's necklace was also lost. I think this murder shows the lack of rule of law," Daw Aye Ma Phyu said, adding that she did not know whether police had yet opened a criminal case or not because she was on her way to Yangon.
DMG phoned the South Okkalapa police station seeking comment, but was unable to connect with any police official.