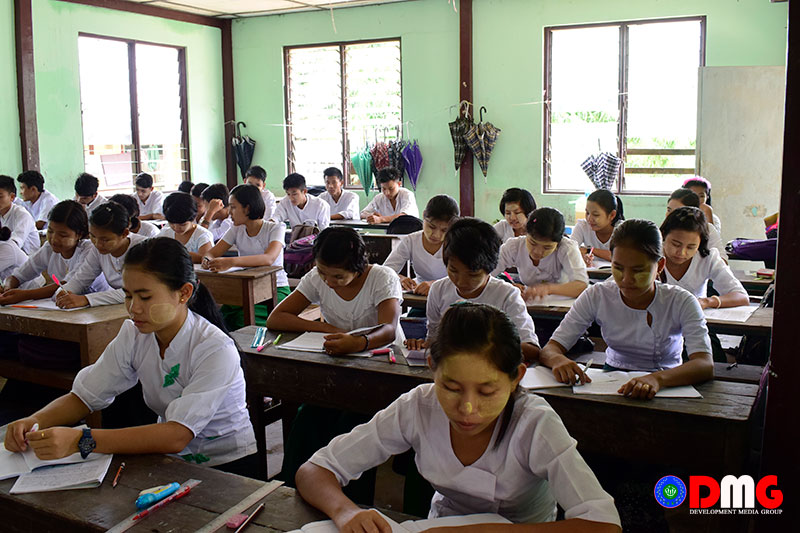 Khin Tharaphy Oo | DMG
5 August, Sittwe 
The Ministry of Education has announced that it will release 2020 matriculation exam results via its website on August 9. 
The ministry plans to publicise the testing data on its official website as part of altered procedural arrangements prioritising COVID-19 preventive measures. 
The results from exam centres in remote areas and those with no internet access will be announced via the Myanma Radio Program and Skynet Education Channel on the same day they are released online elsewhere. 
Ma Kyi Kyi Hla, who sat the 2020 matriculation exam and is taking shelter at Nyaungchaung IDP camp in Kyauktaw Township, said students from IDP camps in Arakan State are generally not in a position to see the exam results under the current plan. 
"I couldn't bring TV or radio along with me when I fled from my village. We had to flee for our lives," she told DMG. "I think it will not be OK as I don't know how I can hear my name when the exam results for the whole [Arakan] State are announced via TV." 
The government restored internet to several townships in war-torn Arakan State on August 1 after more than one year of blocking online access. But locals have said they are dissatisfied because the 2G network they have recently been given access to is inferior to that enjoyed by the vast majority of Myanmar. 
Ma Hla Hsan Yin, another student who sat for this year's matriculation exam from Kansauk village in Kyauktaw Township, said: "I want officials to fully restore the internet if the exam result is announced online. Now, I see nothing due to the poor internet access." 
Kyauktaw, Ponnagyun, Mrauk-U, Minbya, Myebon, Rathedaung and Buthidaung townships in Arakan State, as well as Chin State's Paletwa Township, have seen their internet restored but reportedly only to an outdated 2G network. 
Adding to tech-related worries, students and parents from some villages have expressed concern that they may get scrutiny on their way to the nearest reporting town when they go there to see exam results. 
Daw Htwe Htwe Lay, the parent of a student from Okkan village in Mrauk-U Township, said: "The release of exam results online is not OK for us. We might face difficulty due to the inspections on the way to town, where the exam results are announced."  
More than 49,000 students in Arakan State registered for the matriculation exam for the 2019-2020 academic year. Over 4,000 students were ultimately absent and did not sit the exam due to clashes between the Tatmadaw and Arakan Army in Arakan State.