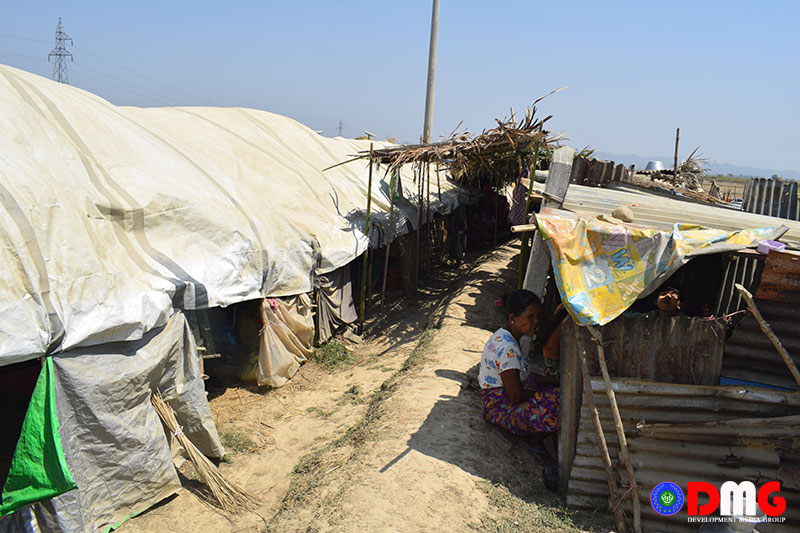 Kyaw Thu Htay | DMG
6 August, Rathedaung

The in-charges of some camps for internally displaced people (IDPs) in the town of Rathedaung, Arakan State, are concerned about the potential for diarrhea and influenza outbreaks due to inadequate toilet facilities.

It has been about three months without proper toilets at Zeditaung West IDP camp, where more than 600 people are taking shelter, and at Zeditaung East IDP camp, where over 700 people are living, camp managers told DMG.

Due to the lack of toilet facilities at these IDP camps and others, displaced people instead defecate in fields or beside nearby streams, according to camp manager Daw May Su Hlaing.

"The smell from the creek's current is not good," she said of her local situation. "Illness is occurring at IDP camps and people are susceptible to diarrhea and influenza in the rainy season. The IDPs poop in the fields or near the creek as there is no toilet at the IDP camps."

Construction of seven toilet facilities has begun at two Rathedaung IDP camps, but the camps are still in need of more latrines. The two camps currently house residents who fled their homes from 15 villages in the northern part of Rathedaung Township due to ongoing clashes between the military and the Arakan Army.

Around 100 people taking shelter at an IDP camp set up in front of the Shwe Parami Monastery currently face hardship and risk because most toilet facilities were damaged by heavy rains one month ago, said U Thein Soe Aung, the camp in-charge.

"The heavy rains destroyed almost all toilets at the IDP camp. Now we are facing an insufficiency of toilet facilities. People at the IDP camp have to stand in a queue for hours to use the only toilet," he said.

The number of IDPs in Arakan State has climbed to nearly 200,000 due to ongoing clashes between the military and the Arakan Army over the past two years, according to the Rakhine Ethnics Congress (REC).