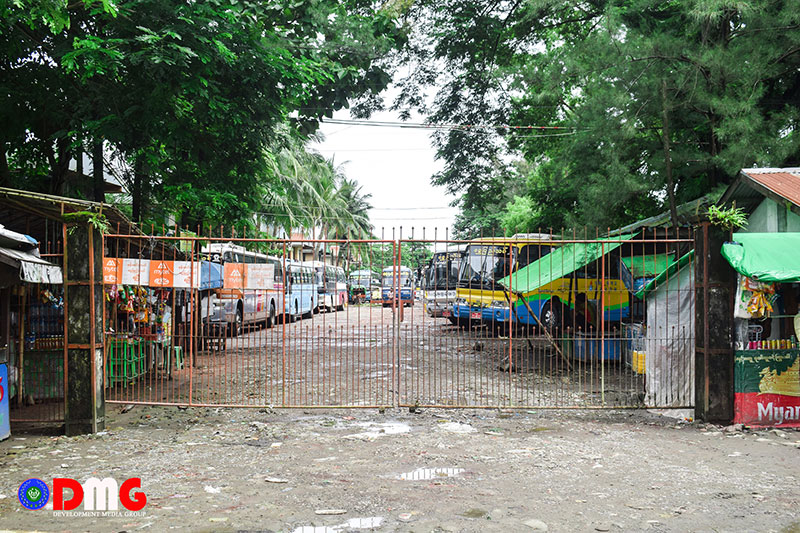 Myo Thiri Kyaw, Mrat Swe | DMG
22 August, Sittwe

With COVID-19 infections continuing to rise in the Arakan State capital, passenger buses and cargo trucks running routes between Sittwe and Yangon were temporarily suspended starting on August 21, according to officials from the bus lines.
The Ministry of Health and Sports announced on August 20 that Sittwe Township was designated a "Stay-at-Home" township in order to curb the spread of the deadly virus.
Residents and others coming from stay-at-home townships are subject to quarantine procedures when traveling elsewhere, leading to the large-scale disruption of transportation services in Sittwe and the surrounding region.
"Because drivers need to join quarantine, the running of all passenger buses has been suspended because we are worrying about something happening to them. I can't say when the bus lines will resume. It depends on infections of the disease," said an official from the Shwe Pyi Thit transportation service.
Passengers seeking overland travel to Yangon from Manaung Township had to return home by speedboat on the morning of August 22 as no passenger buses ran along the Taungup-Yangon route. More than 150 people took Shwe Pyi Tan and Shwe Lin Yon ferryboat services from Taungup back to Manaung Township.
U Bi Lu, a Manaung resident who returned home by speedboat, said: "No bus drove to Yangon from Taungup. So, we went back home today. We were stranded in Taungup for two days because we waited for a chance to go to Yangon."
Waterway itineraries from Sittwe have been banned under a government directive, said U San Maw Thein, manager of Shwe Pyi Tan ferry service.
"We suspended the vessels because the government issued a guideline for all passengers of waterway [transport] and crew members to enter quarantine," he said.
With the exception of Air KBZ, commercial airlines flying from Sittwe to other cities have also been suspended.
Fifty-one patients tested positive for COVID-19 in Arakan State from August 16-22, according to the Ministry of Health and Sports. Forty-eight patients are hospitalised in Sittwe and the other three are receiving medical treatment in Mrauk-U.
The figures represent a dramatic spike in cases, and include the first local transmissions reported in Myanmar in more than a month.
Prior to the recent outbreak, there had been just 16 coronavirus cases in total reported in Arakan State.