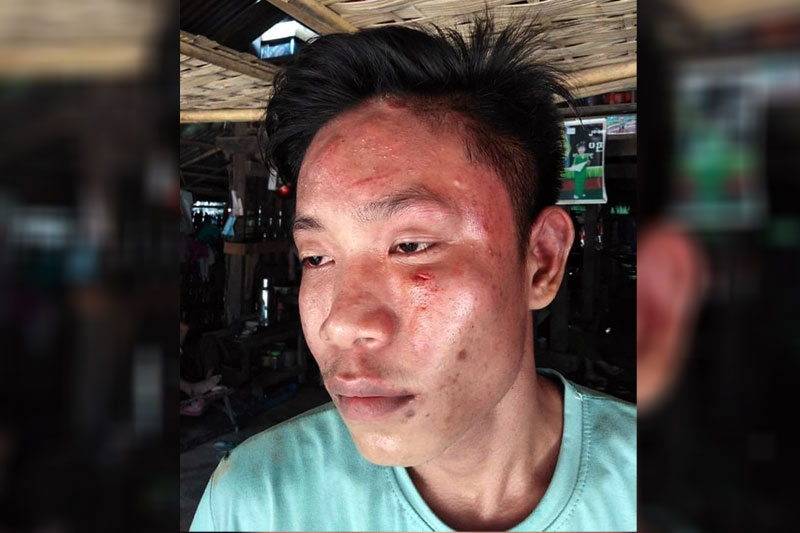 Hnin Nwe | DMG
29 August, Ann

A college student from Ann Township in Arakan State was allegedly beaten by security personnel during an interrogation on August 28, according to the victim.

The 18-year-old man, Maung Nyi Nyi Soe from Pyintaw village, said he is a second-year student at Kyaukphyu Education College.

He was beaten by three security personnel in mufti while he was sitting on a bench at Hinywin Dam near the military's No. 757 Light Infantry regiment at about 2 p.m. on August 28, the victim said.

"I was sitting on a bench near the dam to calm my emotions because I had quarreled with family members. At that time, three security personnel in civilian dress came to me and interrogated me on suspicion of having ties to the Arakan Army. They beat my face. I went to the military's No. 757 Light Infantry regiment and told a captain about the incident, who gave me K30,000 for medical expenses," he added.

The victim also lodged a complaint with the Arakan State Students' Union. The union said it would forward the complaint to the president and release a statement regarding the case.

Ko Kyaw Naing Htay, information officer for the Arakan State Students' Union, told DMG that the union would await the president's response before determining how to proceed.

"We strongly object to the military over its actions toward a college student. They neither understand nor abide by international law. Security members do as they please because they don't know military rules and international human rights. I would like to urge the concerned organisations to follow international ethics and military disciplines," he said.

DMG contacted Maj-Gen Zaw Min Tun and Maj-Gen Tun Tun Nyi of the Tatmadaw True News Information Team seeking comment on the alleged maltreatment of the student, but they could not be reached.

The number of civilians arrested over suspected links to the Arakan Army continues to rise amid the ongoing clashes between the military and the ethnic armed group in Arakan State.