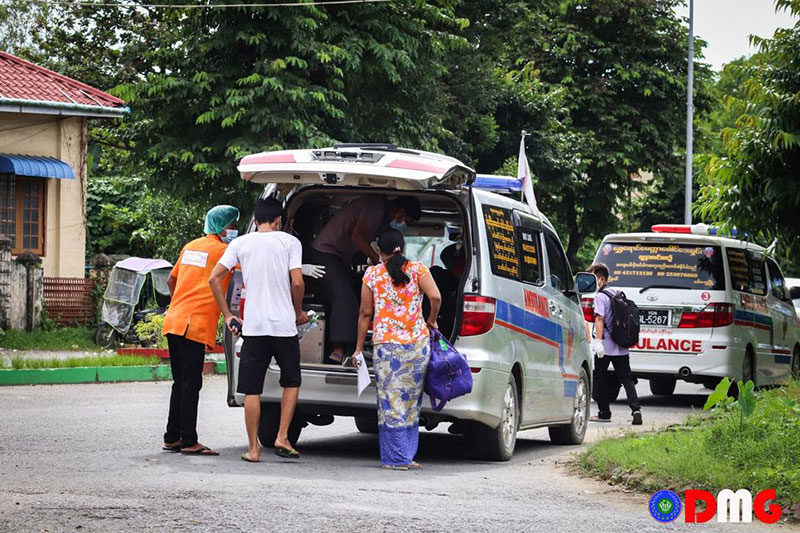 Thet Paing | DMG
15 September, Sittwe 
A total of 242 recovered coronavirus patients were discharged from Sittwe General Hospital as of September 15, according to Dr. Zaw Lwin, superintendent of the Arakan State capital's main hospital, with modified discharge procedures recently being implemented. 
The hospital has provided or is continuing to provide treatment to 439 COVID-19 patients, and discharges of recovered patients have been permitted since September 5, Dr. Zaw Lwin said. 
Recent international medical research has prompted a change to discharge criteria, moving away from a testing-based model, he said. 
"According to the findings of the international medical research, the virus cannot infect other people from an infected person between 10 and 14 days after symptom onset," Dr. Zaw Lwin explained. 
Previously, a recovered COVID-19 patient was able to leave the hospital after they had tested negative twice, but the change in procedure allows for discharges after a patient has been under hospital surveillance for 14 days and does not exhibit any symptoms of the virus. 
"If a person tests positive and shows serious symptoms of the disease, they will have to stay at hospital for 21 days to be provided medical treatment to treat the disease," he added. 
Recovered patients are also instructed to undergo one week of home quarantine after they have been discharged from the hospital. 
According to figures released by the Ministry of Health and Sports on the evening of September 15, the national tally of COVID-19 cases stood at 3,502, the number of recovered patients was 832 and the death toll had risen to 35. 
It has been about one month since a COVID-19 outbreak was first reported in Arakan State, centred in Sittwe, with new infections rising from 374 total cases nationwide and just six fatalities on August 15. A spike in new cases has followed in Myanmar's largest city Yangon. 
There were 197 patients receiving treatment for the virus at Sittwe General Hospital as of September 15.