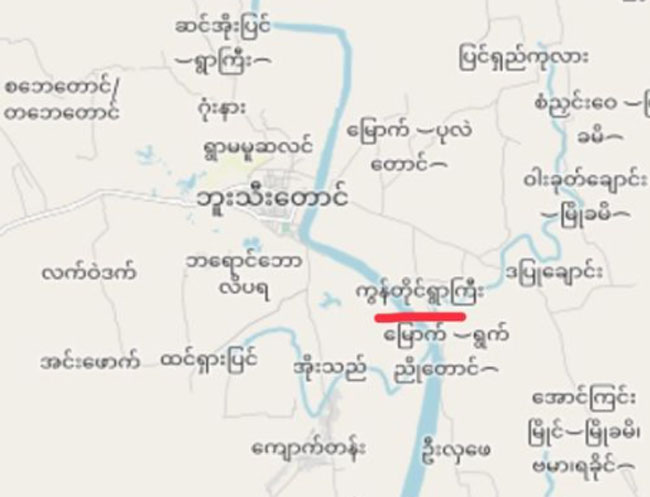 Kyaw Myo Aung | DMG
20 September, Buthidaung

Fighting flared between the Tatmadaw and the Arakan Army on September 20 near Kuntaing village in Arakan State's Buthidaung Township after two landmines exploded there, according to locals.
"We heard two landmine blasts at around 9 a.m. today. The gunfight lasted about 30 minutes," said Daw Awin May, a resident of Kuntaing village.
"We hid beside the creek amid the rain. Security personnel from the military who were stationed near the fish pond encountered landmine explosions and clashed with fighters from the Arakan Army at a location about a mile and a half from Kuntaing village."
She added that security had been deployed in the village in the aftermath of the clash.
Kuntaing village consists of about 60 homes, with some families reportedly fleeing to downtown Buthidaung after hostilities broke out near the village on September 8.
Some still remain in the village, said U Tun Aung Thein, an Arakan State lawmaker for Buthidaung Township.
U Shwe Hla Aung, the Buthidaung Township administrator, confirmed reports of a landmine incident near Kuntaing village.
"The report about landmine blast is correct. But I don't know exactly as to whether one or two landmines exploded," the township administrator said.
Fierce clashes erupted between the Tatmadaw and Arakan Army on September 16-17 near Doetan Creek along the Mayu mountain range road that crosses Buthidaung and Maungdaw townships, according to locals.