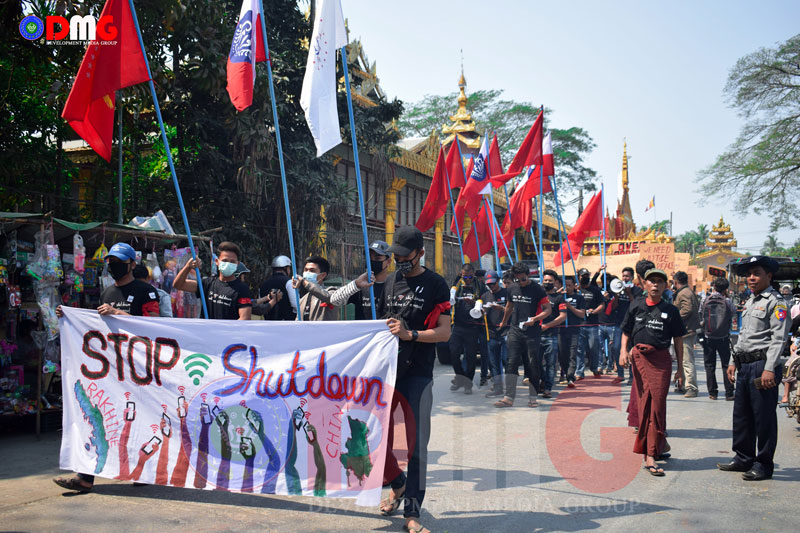 Aung Htein|DMG
1 October 2020, Sittwe 
Fifty-two people from nine townships in Arakan and Chin states have faced legal action for protesting an internet ban in the region since June 2019, the activist group Athan said on October 1 as it rolled out a report analysing the state of free expression in Myanmar. 
Among them, 12 have been sentenced, 29 are facing charges, another nine have been declared as absconders and two are under self-guarantee, the freedom of expression advocacy organisation said in its announcement.
"The authorities' crackdown on freedom of expression has become obvious as the election draws nearer," said Ko Ye Wai Phyo Aung, Athan's point person on research. "It is necessary to publicise that the authorities are violating the right to freedom of expression. That is the reason why we have to make an announcement." 
September saw a surge in cases related to acts of protest against the government's internet policy in Arakan State and Chin State's Paletwa Township: 39 of the 52 cases reported by Athan were filed last month alone.  
Free expression activists and others protesting the state of affairs in Arakan State more broadly, including student anti-war demonstrators, have been charged in recent weeks under the Peaceful Assembly and Peaceful Procession Law, the Natural Disaster Management Law and the Penal Code. 
"The 505 sections A and B [of the Penal Code] and Natural Disaster [Management Law] sections are like rubber bands, which can be used in whatever way they like," said Ko Aung Pyae Sone Phyo, vice chairman of the All Burma Federation of Student Unions (ABFSU).  
Internet access was cut off by the government in Arakan State's Buthidaung, Maungdaw, Rathedaung, Ponnagyun, Kyauktaw, Myebon, Mrauk-U and Minbya townships, and Paletwa Township in Chin State, on June 21, 2019. 
Access was restored in Buthidaung, Maungdaw, Rathedaung, Myebon and Paletwa townships on September 1, 2019, but cut again on February 3, 2020. 
Maungdaw Township was again given back its access to mobile internet on May 2, 2020.  
The rest of the aforementioned townships saw a slower internet connection, on a 2G network, activated on August 1, 2020, but critics have said the 2G is vastly inferior and effectively useless.   
Local and international organisations and foreign embassies have urged authorities to fully restore mobile internet access to all of the affected townships.