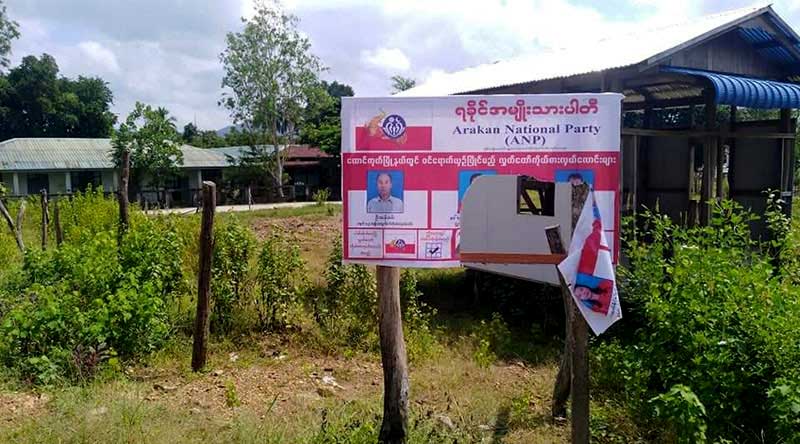 Myo Myint Zaw and Aung Kaung Zaw | DMG
3 October 2020, Taungup
Two campaign signboards for the Arakan National Party in Taungup Township's Maei town were destroyed on October 2, according to the ANP, the latest examples of election-related vandalism in Arakan State during the general election's canvassing period.
According to eyewitnesses, the ANP's signboards in Maei's Ward Nos. 2 and 3 were destroyed by a woman, said U Win Zaw, a central executive member of the party.
The ANP has opened a lawsuit at the Maei police station against those responsible for the destruction of the signboards, which were erected on September 30, he added.
"We have filed a case with the police in connection with the matter under the electoral law. Eyewitnesses said a woman destroyed the election signboards," he said.
DMG contacted Police Inspector Ko Ko Min Tun, head of the Maei police station, for comment on the case, but he replied that he would call back later as he was busy at the time.
An ANP campaign signboard in Yeyu village, Ramree Township, was also destroyed on September 26. The signage was deliberately destroyed, said U Tun Tun Oo, chair of Ramree Township's ANP chapter.
"The campaign signboard was erected on September 24 and was destroyed two days later. Some people consciously destroyed the campaign signboard. But there is nothing wrong with our party doing this [putting up the signs]," he added.
U Tun Tun Oo said the Union Election Commission had been notified of the destruction of the campaign signboard in Yeyu village, but the ANP does not plan to open a case against the responsible person or people because there are no leads as to who that might be. 
The ANP has erected campaign signboards in more than 50 Ramree Township villages since September 22, according to the township ANP.
Campaign signboards for the National League for Democracy (NLD) were destroyed in the opening weeks of the 2020 general election's official campaign period. At least 10 campaign signboards for the ruling NLD in Taungup, Myebon, Manaung and Sittwe townships were reportedly destroyed.
The general election is slated for November 8, with the official campaign period kicking off on September 8.