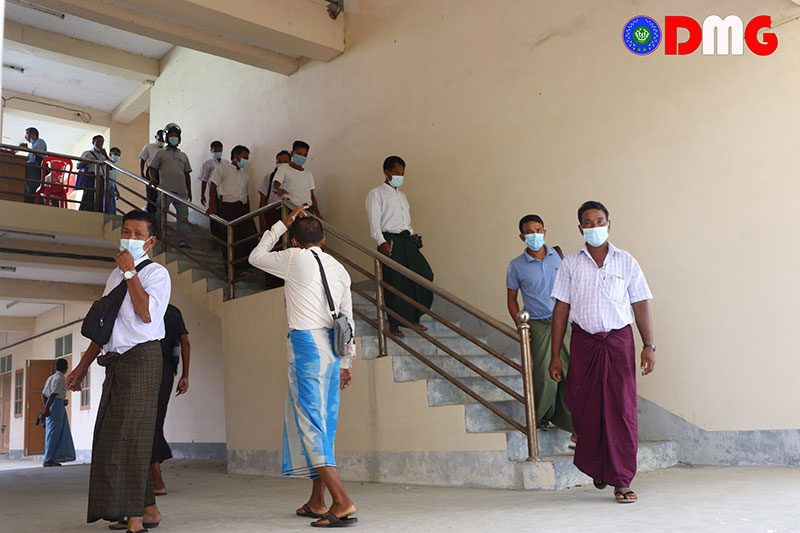 Aung Htein | DMG
4 October 2020, Sittwe 
Ward and village administrators are drawing attention to the case of a fellow administrator from Tawkan village in Arakan State's Sittwe Township who was recently arrested by Tatmadaw troops.  
The ward and village administrators from Sittwe Township met with the township-level administrator, U Aung Zaw Oo, on October 4 to discuss the military's detention of Tawkan village administrator U Than Kyaw Hlaing. 
The local leaders conveyed to the township administrator that they want the military to release 37-year-old U Than Kyaw Hlaing if he is not guilty, or to act promptly to prosecute a case against him in accordance with the law if there is sufficient charging evidence to do so. The administrators also inquired as to their detained peer's whereabouts during the meeting. 
"We want the detained village administrator released if he is innocent. We would like to ask the military to inform his family of his whereabouts," said U Zaw Win, the Ngatauktet village-tract administrator. 
A military contingent reportedly entered Tawkan village on October 3 and checked the household registration documents and National Registration Cards of residents.  
The soldiers took U Than Kyaw Hlaing into custody following the checks and the reason for his arrest is still unknown, said Daw Thuzar, the detainee's wife. 
"Some village administrators in Mrauk-U were arrested and killed. I am worried that my husband will be killed. He did nothing wrong," she added.  
If any ward or village administrators are suspected of wrongdoing, the relevant township administrator should be informed and the accused should be brought to the local police station for investigation, said U Maung Hla Tun, the administrator of Kyarmathauk village in Sittwe Township. 
"If we [local administrators] are guilty, we should be interrogated at the police station after informing the respective township administrator. We can be punished if we are found guilty. He [U Than Kyaw Hlaing] was taken by the military for interrogation. Family members are concerned for the safety of the arrestee because they haven't had contact with him and don't know where he is detained," he said. 
DMG contacted Maj-Gen Zaw Min Tun of the Tatmadaw True News Information Team for comment on the case, but he could not be reached. 
In another case of administrators taken into custody earlier this year, Angu Ywar Thit village administrator U Maung Zaw and Ywar Thit Kay village administrator U Kyaw Myint, both from Myebon Township, were arrested on May 30. They were detained on suspicion of being in contact with the Arakan Army and have since been charged under Sections 50(j) and 52(b) of Myanmar's Counter-Terrorism Law.  
Additionally, a ward administrator in Myebon town, U Aung Than, was arrested on June 3 and likewise was charged under Sections 50(j) and 52(b) of the Counter-Terrorism Law.   
Following those arrests, dozens of administrators in Myebon Township reportedly tendered their resignations on June 5, citing concerns for their safety.