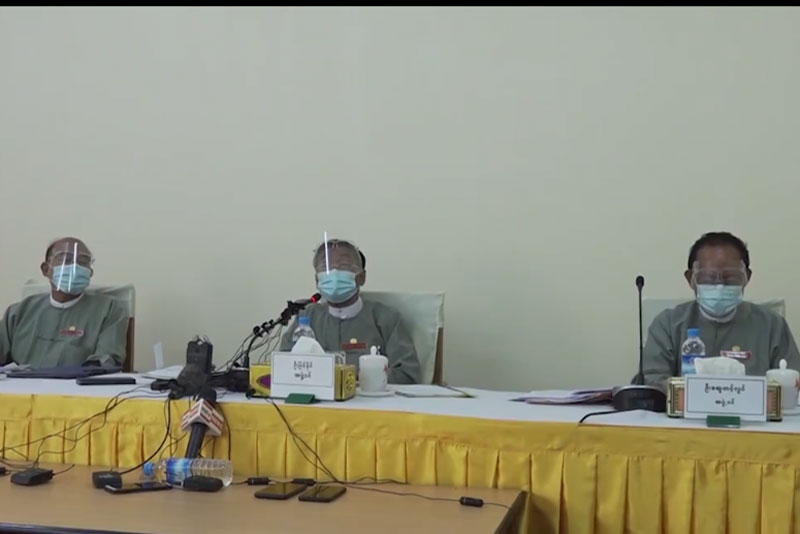 Min Tun | DMG
20 October 2020, Sittwe 
Union Election Commission (UEC) member U Myint Naing said the commission had obtained opinions and remarks from the Union government, the Ministry of Defence and the Ministry of Home Affairs prior to announcing which townships would not hold elections in next month's nationwide vote.  
The announcement of cancelled constituencies was made after analysing the recommendations coming up through the UEC's respective subcommissions, he added.  
"We reviewed their opinions and remarks based mainly on what the risk factors would be if elections were to be held, and whether the voters can cast ballots safely," he said. 
U Myint Naing explained the UEC's deliberative process at a press conference in Nay Pyi Taw on October 20.  
However, he said the substance of the remarks and recommendations on local election conditions that were sent back by the government and military-controlled ministries could not be disclosed. 
The UEC said elections will be held again in cancelled areas when the people can cast ballots safely. 
"We have left out the townships and village-tracts that are not safe currently and which could cause risks," U Myint Naing said. "When [the UEC] is convinced that the village-tracts have become safe and that there is no reason to cause troubles, the elections will resume. If there are no more risks and people can vote safely, we will hold [elections] at that time." 
U Myo Kyaw, secretary of the Arakan League for Democracy, said regardless of process or explanations offered for the UEC's decision-making, one thing was clear: "Whatever it is, their announcement remains in history as, 'The people will not be getting democratic rights and citizens' rights.'"  
The UEC on October 16 said the entirety of nine Arakan State townships — Pauktaw, Ponnagyun, Rathedaung, Buthidaung, Maungdaw, Kyauktaw, Minbya, Myebon and Mrauk-U — as well as some wards and village-tracts in four other townships in the state, would not be holding elections on November 8.  
Though Arakan State is the most heavily affected, a total of 56 townships nationwide will be unable to vote either entirely or partially this year, including significant patches in Shan and Kachin states. An alliance of ethnic political parties released a statement decrying the UEC's decision as unfair on October 18. On Tuesday, U Myint Naing said Paletwa Township in Chin State and Arakan State's Ann Township, which were initially announced as moving forward with elections this year, are being reviewed. 
Fighting between the Tatmadaw and the Arakan Army has flared on multiple occasions in both Paletwa and Ann townships.